The federal Passenger Rail Investment and Improvement Act of 2008 (PRIIA) requires states to prepare state rail plans in order to receive federal rail grants.  The Michigan Department of Transportation is in the early stages of putting Michigan's rail plan together. Public participation and input is required for a successful state rail plan.
In the summer and fall, 2010, the Michigan Environmental Council, the Michigan Association of Railroad Passengers and partner organizations will convene a series of public forums throughout the state in an effort to engage Michigan citizens in a discussion about their vision for the state's passenger and freight rail system.
These forums are not the official input sessions - MDOT will begin those in the fall.  The Michigan By Rail forums are intended to begin the discussion of what our future passenger rail system should look like and how it should operate.
The Michigan by Rail public forums will include:
An overview of the state's existing rail system
An interactive rail mapping session
A discussion of public financing issues for rail projects and service
A statewide vision for freight, intercity passenger and commuter rail
Public Forum Tentative Dates and Locations
View Larger Map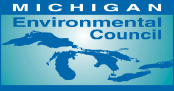 This page has the following sub pages.