Battle Creek Station Update 7/26/10
Tim,
As per your request to Mayor Baldwin I am providing a short update on the upcoming improvement project at the City's Intermodal Facility.  I wish I could have attended the forum but had a previously scheduled engagement.
The City has been working with MDOT High Speed Rail and the Federal Railroad Administration (FRA) to obtain funding for a project to completely renovate the City's Intermodal Facility located at 104  Capital Ave. SW.  We are very close to having all of the necessary agreements in place to secure the funding and have completed a qualifications based selection process to select an Architectural firm and a Construction Management firm for the project.   Some preliminary design concepts and a planning budget were established as part of the process to secure the funds and will be used as a starting point as we develop a final design for the facility.  The project includes a complete remodel of the interior portions of the facility as well as exterior site improvements.  We are planning the project in a manner that will allow us to continue to provide all of the services currently provided today.  The estimated project cost is approximately $3.6 million.
As you know, the Intermodal Facility serves as a critical transportation gateway to the Battle Creek Community.  As we move toward a final design we will be working with Amtrak, Indian Trails, Greyhound, City officials, Battle Creek Unlimited, etc.  We hope to have begin that process in the next few weeks and estimate the project will be complete by Summer of 2011.
Please forward this update to the attendees of the recent Michigan By Rail forum and  let me know if you have any questions.  Thanks for your interest in this exciting project!!
____________________________________________________
Lawrence C. Bowron, Interim Transportation Director
WK Kellogg Airport
15551 South Airport Road
Battle Creek, MI 49015
269.966.3470
www.battlecreekmi.gov
__________________________________________________________________________________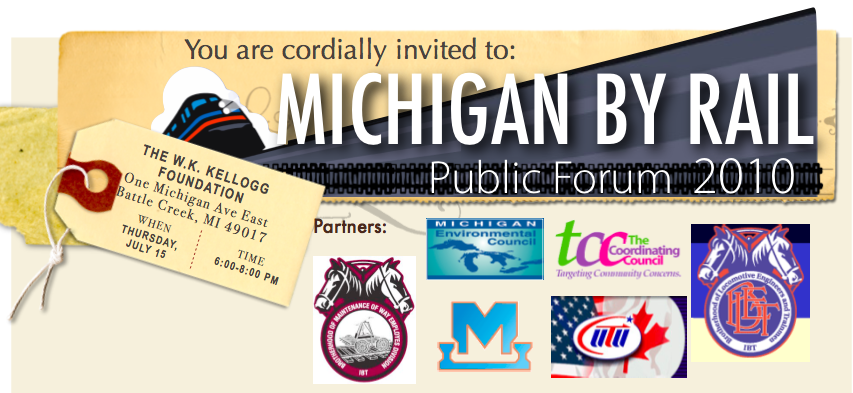 The Michigan By Rail Public Forum in Battle Creek will be held on July 15, 2010 from 6:00 pm to 8:00 pm at the W.K. Kellogg Foundation.
Please join Calhoun County Commissioner Jim Haadsma, Battle Creek Mayor Susan Baldwin, Battle Creek City Council Commissioner Ryan Hersha, other elected officials and your fellow citizens for the Battle Creek Michigan by Rail Public Forum.
The Michigan by Rail Forum in Battle Creek is part of a series of public forums taking place throughout the state to engage citizens on a vision for the future of Michigan's freight and passenger rail system.
The event will include an overview of the existing system; an interactive rail mapping session; discussion of financing issues and a big-picture vision of the future of Michigan's railroad system.
Forums will also be held in Ann Arbor, East Lansing, Dearborn, Detroit, Traverse City, Grand Rapids, Holland, Jackson, Kalamazoo, Muskegon, New Buffalo, Royal Oak, and St. Joseph/Benton Harbor.
Please participate and make your voice heard.
Partners for this forum are:
Michigan Environmental Council
Michigan Association of Railroad Passengers
Brotherhood of Locomotive Engineers and Trainmen
Brotherhood of Maintenance of Way Employees Division of the International Brotherhod of Teamsters
The Coordinating Council of Calhoun County
CONTACT:
Tim Fischer
(517) 487-9539
The W.K. Kellog Foundation is located at:
1 Michigan Avenue East
Battle Creek, MI 49017-4012