Thanks to everyone that came out and participated in the East Lansing forum, check the home page for a blog post recapping the event as well as a short video. Here are a couple of representative exit surveys that were turned in: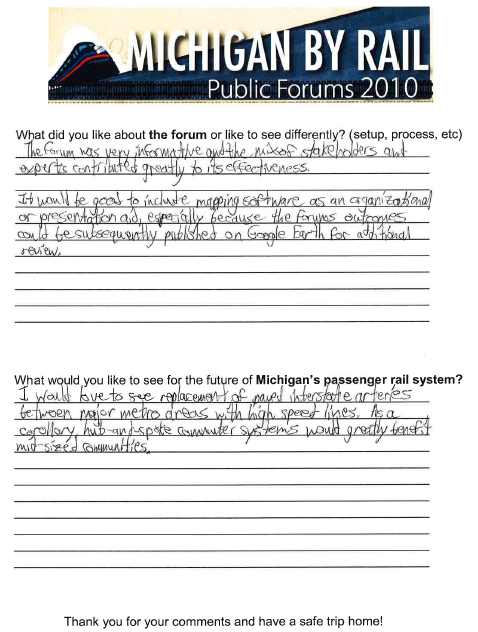 The Michigan By Rail Public Forum in East Lansing will be held on July 8, 2010 from 6:00 pm to 8:00 pm. The forum will be held in the basement of The People's Church, which is located at 200 West Grand River Avenue, East Lansing, MI, 48823.
Please join State Representative Mark Meadows, Ingham County Commissioner Todd Tennis and East Lansing City Councilman Nathan Triplett for the East Lansing Michigan by Rail Public Forum.
The Michigan by Rail Forum in East Lansing is part of a series of public forums taking place throughout the state to engage citizens on a vision for the future of Michigan's freight and passenger rail system.
The event will include an overview of the existing system; an interactive rail mapping session; discussion of financing issues and a big-picture vision of the future of Michigan's railroad system.
Forums will also be held in Ann Arbor, Battle Creek, Dearborn, Detroit, Traverse City, Grand Rapids, Holland, Jackson, Kalamazoo, Muskegon, New Buffalo, Royal Oak, and St. Joseph/Benton Harbor.
Please participate and make your voice heard.
WHEN:
Thursday, July 8
6:00 pm to 8:00 pm
SPONSORS:
Michigan Environmental Council
Michigan Association of Railroad Passengers
FACEBOOK EVENT:
CONTACT:
Tim Fischer
(517) 487-9539
View Larger Map