For more Michigan train news check the Michigan Association of Railroad Passengers website
———————————————————————-
The latest in Michigan Rail:
________________________________________________________________________________
$1.2 billion in rejected HSR grants from OH and WI  re-granted - none to Michigan
________________________________________________________________________________
December 8, 2010
Here is a letter from outgoing Ohio Governor Ted Strickland to Governor-Elect John Kaisch where he makes the case that the Governor-Elect should rethink his stance on accepting federal funds to improve the Ohio rail system. (click "fullscreen" to see a larger version).
________________________________________________________________________________
From former Michigan Env Council intern and current UM student Logan Chadde
University of Michigan student: Bucks won 'The Game,' but Ohio loses rail system
By Logan Chadde
[email protected]
Published: Sunday, December 5, 2010
http://www.thelantern.com/opinion/university-of-michigan-student-bucks-won-the-game-but-ohio-loses-rail-system-1.1819927
To the editor:
Yes, you won again. I never thought the line "there's always next year" would ever have to be muttered much here in Ann Arbor. Hopefully one of these times it'll hold true, and we won't have to fall back on claiming academic superiority in order to make ourselves feel better.
But even though Ohio State prevailed, Michigan can still take comfort in the fact that we are positioned to surpass Ohio's transportation system and outpace its economic growth by investing in and expanding our passenger rail system, something the state of Ohio is not planning on doing. Ohio's governor-elect, John Kasich, has vowed to kill Ohio's 3-C train and return $400 million in no-match federal funding that would result in thousands of jobs and billions of dollars in economic growth and development for Ohio, not to mention provide more transportation choices, reduce traffic congestion and improve the state's environmental footprint.
Although this rejection of federal rail funding is irrational and somewhat baffling (particularly as Ohio faces an $8 billion budget shortfall), I have nothing but encouragement to offer because the money will be reallocated to another state — quite possibly Michigan. So let me join you in a rousing chorus of "O-H-I-O!" as you avoid modernizing your transportation system at minimal cost to your state, avoid planning for the future and avoid beating Michigan in a contest that's perhaps even more important than the recent football game: the competition to attract industry and business, draw young, educated workers to your state and improve the lives of your residents. And who knows, maybe LeBron wouldn't have left Ohio if he would have had a decent rail system to take to work. Zing!
_________________________________________________________________________________
High speed rail in Michigan could become a reality if State Senate acts
http://www.freep.com/article/20101201/OPINION05/101130057/1322/High-speed-rail-in-Michigan-could-become-a-reality-if-State-Senate-acts-
Read more: High speed rail in Michigan could become a reality if State Senate acts | freep.com | Detroit Free Press http://www.freep.com/article/20101201/OPINION05/101130057/High-speed-rail-in-Michigan-could-become-a-reality-if-State-Senate-acts#ixzz16up29fWD
http://www.freep.com/article/20101201/OPINION05/101130057/1322/High-speed-rail-in-Michigan-could-become-a-reality-if-State-Senate-acts-
_____________________________________________________________________________________
Posted: Nov 30, 2010 at 2:27 PM [Today]
Michigan will send $161 million in federal high-speed rail funds back to Washington, D.C., if the state Senate doesn't take action to approve the required matching funds.
Two statewide environmental groups issued a statement today, urging senators to follow the lead of the state House and put up the $37 million needed to trigger the federal dollars.
That includes a $150 million federal grant for high-speed rail improvements along the Detroit-to-Chicago corridor, which Ann Arbor officials have been celebrating.
The Michigan League of Conservation Voters and Michigan Environmental Council are calling on residents to contact their senators and make their voices heard.
Awaiting the Senate's approval is House Bill 6484, which was passed by representatives on Nov. 10. It authorizes up to $100 million in state construction bonds, which would more than cover the $37 million federal match requirement.
Ann Arbor clearly has a lot at stake — its Amtrak station is the busiest stop between Detroit and Chicago. And Mayor John Hieftje has said the high-speed rail improvements also would make possible the proposed Ann Arbor-to-Detroit commuter rail service.
The Senate reconvened today.
"We're optimistic at this point," said Tim Fischer, deputy policy director with the Michigan Environmental Council. "Today is the first day that the Senate has had an opportunity to look at it, and the Senate has a lot on its plate. We're hopeful they'll come around and pass this so we can get going on these projects."
"Ann Arbor really is the center of these projects," Fischer added, noting that some of the remaining state bond money — after the $37 million match — could go toward the proposed Ann Arbor-to-Howell service line.
He also noted the bonding authority already exists.
"So the question is not whether we'll sell bonds, but what we'll sell bonds for," Fischer said.
He said if the state doesn't dedicate the money to rail projects, it'll just fund projects like airport hangars where the return on investment is "nominal at best."
The two environmental groups are asking residents in communities that are directly affected by the outcome of the vote — including Detroit, Dearborn, Kalamazoo, Ypsilanti and Ann Arbor — to call their senators this week. They said it's also important to contact Republican Senate Majority Leader Mike Bishop, who is responsible for calling the bill to the Senate floor.
Click here for senator contact information.
The bill already has the support of state Sen. Liz Brater, D-Ann Arbor.
Local leaders say establishing regular rail service between Detroit, Dearborn, Ypsilanti and Ann Arbor is important, as Southeast Michigan is the only major metropolitan area in the U.S. without light or commuter rail.
"Michigan is a state built on transportation," Lisa Wozniak, the Ann Arbor-based LCV's executive director, said in a statement. "While automobiles remain important, especially next-generation vehicles like the Chevy Volt, our state also needs to invest in high-speed and commuter rail for the promise it holds. That includes a lower carbon footprint for our state and faster commutes that can spur tourism and job growth across Michigan."
The newly elected governors of Wisconsin and Ohio are refusing to accept almost $1.3 billion in federal high-speed rail grants. U.S. transportation officials are now making plans for the redistribution of those funds to states that will accept them.
Incoming New York governor Andrew Cuomo has said publicly his administration would gladly take the cash. Fischer said he's hoping to hear a similar statement from Michigan Gov.-elect Rick Snyder.
A spokesperson for Snyder's transition team could not be reached for comment today.
Ryan J. Stanton covers government and politics for AnnArbor.com. Reach him at [email protected] or 734-623-2529.
***
http://www.annarbor.com/news/environmental-groups-urge-michigan-senate-to-act-swiftly-to-match-federal-high-speed-rail-grants/
__________________________________________________________________________________
Guest column: Michigan lawmakers must act to secure $161 million for fast passenger rail service
http://www.mlive.com/opinion/grand-rapids/index.ssf/2010/11/guest_column_michigan_lawmaker.html
Published: Tuesday, November 30, 2010, 5:50 AM     Updated: Tuesday, November 30, 2010, 7:08 AM
By Rick Chapla
Grand Rapids is on the verge of a passenger rail renaissance that promises to accelerate economic development, boost tourism, help the environment and better connect Grand Rapidians with the rest of the state and the nation.
In order to make that happen, state senators must approve legislation securing $161 million in federal rail funds to start building the fast passenger rail service we've talked about for so long.
Legislation currently before the state Senate — HB 6484 — would fund Michigan's required state match for the federal high speed rail funding. If the state Senate fails to pass this bill Michigan will allow $161 million to slip away. That would hinder the possibility of high speed connections on the Chicago-Detroit corridor and miss the opportunity to strengthen passenger rail travel to Grand Rapids.
We must urge our state senators to pass this bill.
With the federal funding, Michigan will purchase and upgrade 135 miles of track between Dearborn and Kalamazoo. Plans also include three new or improved train stations along the way.
Successful funding and completion of these projects means trains hitting 110 mph on more than 200 miles of track along southern Michigan's corridor. This is a game-changing opportunity for our state. Republicans and Democrats, labor, local governments, chambers of commerce, and environmental groups are now on the same page.
Meanwhile, Grand Rapids is doing its part.
In early November, the Downtown Development Authority (DDA) approved $850,000 for a new Amtrak station, which will help secure a $3.8 million federal grant. The new facility will transform the Amtrak service from Chicago into a more efficient system by alleviating congestion and speeding arrival into the station.
The DDA's contribution is one way of showing commitment required by the Federal Rail Administration to be considered for federal funding. The state, as well, must also show political and financial support for existing passenger rail systems. That's why it is so crucial that the state Senate approve this bill before the end of the year.
Demonstrating such enthusiasm also may help Michigan get funds that other states are turning down.
The newly elected governors of Wisconsin and Ohio are rejecting almost $1.3 billion in federal high speed rail grants. Those funds will be redistributed "in a professional way in places where the money can be well spent," said Transportation Secretary Ray LaHood.
There's no reason that place can't be Michigan. And no reason the State Senate shouldn't enthusiastically say, "Yes" to Michigan and pass HB 6484.
Rick Chapla is vice president of business development at the Right Place, Inc. in Grand Rapids.
***
Full story here
http://www.mlive.com/opinion/grand-rapids/index.ssf/2010/11/guest_column_michigan_lawmaker.html
_____________________________________
Grand Rapids looks at new Amtrak station for Pere Marquette train to Chicago
http://www.mlive.com/news/grand-rapids/index.ssf/2010/11/grand_rapids_looks_at_new_amtr.html
Published: Tuesday, November 09, 2010, 5:51 AM     Updated: Tuesday, November 09, 2010, 6:48 AM
File Photo | The Grand Rapids Press
Amtrak has offered service on the Pere Marquette line between Grand Rapids and Chicago for 26 years.
GRAND RAPIDS — A long-awaited new Amtrak station that could cut commute times and open the door to future service expansion may finally come down the track.
On Wednesday, the city's Downtown Development Authority is expected to consider a request for $850,000 to buy land and build a new station and platform on land south of The Rapid Central Station in southwestern downtown.
The money would help The Rapid and Michigan Department of Transportation leverage a $3.8 million grant from the Federal Railroad Administration earmarked for building a new 1,700-foot long spur to service the station.
If all goes according to plan, the station could be in service by late 2011 or mid-2012.
DDA Chairwoman Kayem Dunn said she had not reviewed the proposal in depth, but believes it fits with the authority's commitment to help transit-related projects since the group captures a portion of a regional transit millage.
"It would take some reconfiguration of the budget, but that's not unusual," she said.
Taiwo Jaiyeoba, director of planning and program development for The Rapid, said the new station would provide more convenient access to the station while eliminating congestion at the current station on the corner of Wealthy Street and Market Avenue.
"For people who don't walk here, who don't have the opportunity to park their car here, it just makes travel here easier and more convenient because they can take the bus here and walk less than a block to the new Amtrak station," Jaiyeoba said.
The new setup would eliminate a time consuming turnaround passengers arriving in Grand Rapids via Amtrak's Pere Marquette line must endure. The turn around can add 15 minutes to the trip as trains pull past the current station and turn around before finally allowing passengers to exit.
The station configuration also requires trains to straddle Market and Wealthy, blocking traffic twice a day during loading and unloading.
Amtrak spokesman Marc Magliari said the new station would cut 5 to 7 minutes from the arrival process.
"The current station has basically been outgrown," he said. "Ridership on the Pere Marquette has continued to rise. The current station is in an out-of the way location from the railroad.
"And, most importantly, the new facility will have more connections to other modes of transportation."
Whether the new station leads to additional service — some have suggested a morning departure from Chicago to Grand Rapids as a logical extension — is purely up to the state, he said.
Amtrak was expected to receive a $7.8 million subsidy to operate the Pere Marquette and its Blue Water line connecting Port Huron and Chicago in the recently ended fiscal year 2010.
An estimated $8.2 million outlay is planned for fiscal 2011, with the Pere Marquette receiving less than $3 million of that amount.
Ridership aboard the line dipped slightly during fiscal 2010, according to MDOT. The drop was attributed, in part, to ending service to and from New Buffalo aboard the Pere Marquette. New Buffalo is now served by Amtrak's Detroit-to-Chicago trains.
Revenue from ticket sales, however, increased on the line.
E-mail Chris Knape: [email protected] and follow him on Twitter at twitter.com/Kcornerm
____________________________________
11/8/2010
Here is an editorial from the Lansing State Journal about why Michigan should continue to invest in rail.
The state and passenger-rail service Amtrak are negotiating on the next round of subsidies for two rail lines in Michigan, including the Blue Water service that stops in East Lansing.
Using state funds to pay Amtrak for rail service may seem a luxury, especially in these harsh budget times. It really isn't, though.
"Amtrak trains have set new ridership records for the fiscal year ending Sept. 30 and collected $24.5 million in ticket revenue, the Michigan Department of Transportation reported last month. "The Blue Water train on the Port Huron/East Lansing-Chicago route saw an impressive 18.7 percent increase, with 157,709 passengers … in FY10. Ticket revenue was up by 15.3 percent to $4.741,560."
For all intents and purposes, the Blue Water service is a link between Greater Lansing and Chicago. The East Lansing station is about twice as busy as the next busiest Michigan station on the line (Flint). It is mid-Michigan's gateway to the nation's passenger rail grid - a grid that should be getting more attractive in a few years.
In October, Michigan was told it would receive $160 million in federal funds for rail investment. The focus will be on improving tracks and the speed of service between Detroit and Chicago.
Greater Lansing's participation in any improvement in rail service is tied directly to the state subsidies, which will be about $8 million for the two lines this year.
MDOT expects to have a new agreement with Amtrak by the end of the calendar year.
Then there are the results of last Tuesday's elections, which are being widely interpreted in Michigan as a call for a major retrenchment in state spending. It's easy to see how the Amtrak funds could get caught up in the new mood.
Fortunately, Gov.-elect Rick Snyder has said again and again that he is looking to recast state programs based on the value they offer, the results they provide. Using that metric, the Amtrak service through East Lansing should hold up quite well.
Meanwhile, the city of East Lansing is trying to make an investment of its own by building a "multi-modal" hub for buses and trains at the tiny and uninviting Amtrak station on Harrison Road.
Of course, this redevelopment, projected at $20 million in spending, would be a project without a rationale should Amtrak stop its Blue Water service.
This is another issue where mid-Michigan's Capital Caucus of legislators can take the lead, explaining to the incoming Snyder administration and to new legislators that there is, indeed, a good deal to be had with Amtrak.
An LSJ editorial
__________________________________________________________________________________
10/18/10
CONTACT: Janet Foran, MDOT Office of Communications, 517-335-7176
Amtrak sets new ridership record in Michigan
October 18, 2010 — Amtrak trains in Michigan have set new ridership records for the fiscal year ending Sept. 30 and collected $24.5 million in ticket revenue. The strong performance on the Michigan routes is evidence that passengers are choosing Amtrak more often, and consider train travel in the Great Lakes State a convenient travel option.
In figures for the 2009-2010 fiscal year, 479,782 passengers rode Amtrak Wolverine service trains on the Pontiac/Detroit-Chicago corridor, an increase of 8 percent from the same period a year earlier. Ticket revenue was up by more than 12 percent to $16,909,193.
The Blue Water train on the Port Huron/East Lansing-Chicago route saw an impressive 18.7 percent increase with 157,709 passengers using the Amtrak service in FY10. Ticket revenue was up by 15.3 percent to $4,741,560.
Ridership on the Pere Marquette train on the Grand Rapids-Chicago route experienced a slight drop, attributed to the fact that the New Buffalo station stop was switched from the Pere Marquette to the Wolverine and Blue Water lines in May 2010. Passenger travel was down by just 1.3 percent to 101,907, while ticket revenue rose 3.3 percent to $2,912,070.
"We believe the uptick in passenger rail travel is an indication of a modestly improving business climate, continuing high gasoline prices, and in this new economy, people choosing rail travel closer to home with local and regional destinations," said State Transportation Director Kirk T. Steudle.
"People have told us through the State Transportation Plan that they value choices, and train travel with its convenience and comfort seems to fit their needs," he added.
"We thank every passenger for choosing Amtrak to meet their intercity travel needs," said President and CEO Joseph Boardman. "More and more people see passenger rail as a way to get to where they need to go, and when our front line employees put them first, it helps to bring passengers back for another trip."
Amtrak operates the Blue Water and Pere Marquette trains under a contract with the Michigan Department of Transportation. At this time, Amtrak does not receive any direct state support for the Wolverine. Michigan is one of 15 states that provide state-supported service.
For a Station Activity Summary Report that shows individual station statistics for fiscal years 2009 and 2010, go to the MDOT Web site for details.
MDOT: Working with our partners at airports, bus systems, marine and rail to find innovative solutions for
Michigan's transportation systems.
Mrs. Rianna Flores
Communications Student Assistant
Michigan Department of Transportation
Office of Communications
517-373-2160
[email protected]
____________________________________
10/07/10
From the Argus-Press
Posted: Thursday, October 7, 2010 2:00 pm
By JESSICA ROBISON, Argus-Press Staff Writer
DURAND — Durand Union Station is hoping to receive a $50,000 grant through the Pepsi Refresh program to help pay for a new parking lot at the depot.
"We are presently working with a grant from Michigan Department of Transportation on a secure, hard-surfaced parking lot for visitors," DUS Director Crissy Castillo said. "The MDOT grant does not cover some engineering, curb and gutter markings, directional signs to the depot and lot markings."
If DUS does receive the Pepsi Refresh grant, the money awarded to DUS will go toward the engineering, signs and marking costs, Castillo said.
The station's parking lot currently consists of gravel, logs for markings and a small space for a bus to turn around when there's a train delay or when tour buses arrive to visit the building.
The depot is in desperate need of a new parking lot, Castillo said, but raising the $250,000 needed to complete the parking lot is close to impossible.
Because the depot is a non-profit, it relies heavily upon visitors and the revenue they bring. The rooms in the station are rented for weddings, parties, meetings and dinners, she said. There also are special displays that enhance the income of the depot.
The revenue brought in by visitors and renting rooms in the depot goes toward keeping the doors open at DUS, Castillo said.
DUS is trying to qualify for other grants to raise more money for the new parking lot, because even though the depot is in negotiations with the city of Durand, the sewage system will have to be paid for and complete d first by the city before the depot's parking lot, Castillo said.
"A decent parking lot will make a vast difference to the approach of the depot and the ease with which visitors can reach the station," Castillo said.
The winner of the Pepsi Refresh program is determined by the number of people who vote online.
To vote for Durand Union Station's new parking lot go to www.refresheverything.com. Register an e-mail address and password to vote, then click on $50,000, type Durand Union Station in the search bar at the top right corner of the screen, keep scrolling down to Durand Union Station Inc. and click on vote for this idea.
DUS is in the education category; which is displayed in orange. Once voted for, the DUS idea will be saved to the voters profile as "Ideas I support," making it easier to find next time the voter logs in.
Once registered, voters are allowed to cast votes on 10 different ideas each day, but only the DUS once a day. Voting for ideas ends Oct. 31.
If DUS does receive the $50,000 grant the money will be split to pay $25,000 to engineering, $15,000 to curb and gutters and $10,000 to directional signs and lot markings.
____________________________________
10/07/10
The United States planned and built a national interstate highway system that transformed the nation's social and economic structure. It took nearly 50 years to accomplish this task. Despite massive federal investments since that time, today segments of the highway system handle volumes of traffic that exceed capacity and are near the end of their useful life.
Our current transportation network suffers from increasing congestion, bottlenecks and poor structural conditions. Roads over capacity, bridges with restricted load capacity, backed up airport runways and missing non-motorized infrastructure. Clamoring for relief, the public is backing a push for high-speed and commuter rail as an alternative mode of transportation.
Improved regional, intercity, and interstate passenger rail service could provide an important boost to Michigan's tattered economy by making the state a more attractive place to invest, live and do business. This effort is also able to reinvigorate the state's manufacturing base to supply equipment for high-speed rail. The planned Midwest rail system improvements would provide businesspeople in Detroit, college students in Ann Arbor and Lansing, and residents in Kalamazoo and Battle Creek a direct and convenient connection with Chicago and each other.
According to the Michigan Department of Transportation, Michigan needs approximately $400 million in capital improvements to upgrade our rail infrastructure from the Detroit-Pontiac area to Kalamazoo. Further, this request is smaller than other states' because the infrastructure exists. MDOT estimates they could complete the upgrades in fewer than 24 months.
Policy and transportation planners across the globe have ranked the Detroit-to-Chicago rail corridor as the most viable route outside of the East and West Coast. Michigan alone is in the position of doing high-speed rail faster more cost-effectively than any other region. This first-in-nation status would attract business investment and tourism.
This possibility has allowed the world of politics to be set aside. For the first time in recent memory, Republicans, Democrats, Realtors, unions and the chambers of commerce all understand the economic benefit of this opportunity. Workers see thousands of good paying green jobs, businesses tout the potential for vast economic growth, Realtors predict stabilized neighborhoods and increasing home values, and the public benefits from a faster, easier way to travel.
Politicians as diverse as Sen. Debbie Stabenow and Congressman Mike Rogers R-8th District, have championed the huge potential economic benefits of high-speed rail in Michigan. If the Michigan Legislature agrees to fund the 20 percent match necessary to complete this project, in 2012, Detroit to Chicago will be the first corridor in the nation to brag that we have achieved high-speed rail status from city to city.
The state needs to provide adequate funding for its entire infrastructure before it becomes too expensive to fix. Michigan must invest in maintaining its roads and bridges and invest in transit service and non-motorized infrastructure improvements. Transportation is the backbone of the economy, quality of life and the link to an improved future for Michigan.
Michigan has ranked near the bottom of nearly every economic indicator for too long. High-speed rail is a game changer for us — an opportunity to lead. If you are interested in new manufacturing jobs in Michigan, a more diverse economy, 21st century travel modes, I recommend you urge your local and congressional leaders to support the Michigan Department of Transportation to improve and expand passenger rail service across our state.
Terri Blackmore, executive director of Washtenaw Area Transportation Study in Scio Township, can be reached at 994-3127 or [email protected].
____________________________________
10/07/10
© 2010 MLive.com. All rights reserved.
____________________________________
10/07/10
from the League of Michigan Bicyclists:
http://www.lmb.org/index.php/Blog/roll-on-bicycle-service-for-michigan-trains.html
MDOT is currently soliciting comments on the State Rail Plan and LMB is encourage all cyclists to submit comments about making our state train service more bike friendly.
Easy to use multi-modal connections are a key part of making a sustainable transportation infrastructure work. To that end, many Amtrak lines offer services to allow travelers to bring their bicycle along on a journey. However, none of the Amtrak trains servicing Michigan cities allow bicycles on board, unless you disassemble it first and put it in a box. This is obviously not convenient.
Michigan is currently missing out on travel-related spending generated by bike tourism because of our lack of bikes-on-board facilities. Our state is home to a number of spring, summer, and fall bicycle tours in or near Michigan cities serviced by Amtrak. By adding bike facilities on Amtrak trains, many Michigan cities could benefit from increased tourism spending, particularly from Chicagoland residents vacationing in Michigan. Additionally, commuters traveling within Michigan would also have another option for getting to and from their destinations.
LMB recornmends that MDOT explore roll on bicycle service for the trains that service Michigan. This service does not necessarily
Here's a sample comment:
I would like to see roll-on bicycle service for all Michigan passenger rail lines. It needs to be much more convenient for rail passengers to bring bicycles on the train without having to disassemble and box them. Roll-on service would complement the non-motorized transportation efforts underway in communities across the state as well as the recently adopted statewide Complete Streets law. It also complements Detroit's light rail plans, as those trains are expected to have roll-on bicycle service from the start.
———————————————————————-
October 4, 2010
By House Speaker Pro Tempore Pam Byrnes, D-Lyndon Township,
A massive national effort is underway to upgrade our transportation infrastructure. While the current federal administration is setting the nationwide vision for rail travel, Michigan is dangerously close to falling out of the equation.
Our state has routinely cut funding for Amtrak. Our rail service from Detroit to Chicago takes 5.5 hours, is unreliable and doesn't run frequently enough. We can no longer dodge this critical investment. Unless we want to be left behind, Michigan must show Washington we're truly committed to a comprehensive overhaul of our rail system. We must continue to modernize our rails now to attract federal dollars to make that happen.
A comprehensive effort for transit in our state would lay the ground work for Michigan to reap all the benefits high-speed rail travel has to offer: creating construction jobs, connecting businesses and helping them grow, cutting travel time to hubs like Chicago by a couple hours, reducing our dependency on foreign oil and helping new industries locate here.
The drawbacks of not upgrading our rail system should serve as even greater motivation to act. With all of Michigan's economic struggles, we can't afford to fall further behind. We've all seen the devastating effects of the auto industry's delay in adjusting to the global economy and how it helped deepen our recession - we're paying for it daily in lost jobs, home foreclosures and continued cuts to priorities like education and public safety.
High-speed rail will make Michigan a better place for businesses to succeed. We have top-notch research institutions, unparalleled manufacturing know-how and fine colleges and universities that continue to produce qualified graduates. It would be tragic to let this all fall by the wayside because we're not connected to a modern regional transit system.
Naysayers will roll out the same old arguments about government spending. And I understand that, but we're not isolated from global change. We can't sit idle, because the world will leave us behind - and they'll do it in part - on high-speed rails. We don't have a choice. Yes, this will take investment, but innovation and progress always do.
I'm not saying we need a 220-mph bullet train tomorrow - that's not really feasible without smaller steps first - but we need to move Michigan forward. Letting our transportation fall even more behind is like putting a big "Closed For Business" sign up across Michigan. We can't afford that. We need jobs, we need businesses and we need investment. Investors, entrepreneurs and federal transportation officials are looking decades down the road to determine how to use their resources today.
We can't let our short-term struggles force us into short-sighted policies that will hinder our recovery and haunt us for the next century. The stakes are just too high.
The future of our state and our children will be dictated by the decisions we make today. If we choose not to develop high-speed rail we will lose more jobs, more employers and more investment. We need all those things to rebuild our economy, move Michigan forward and create a brighter tomorrow. We need to develop high-speed rail in Michigan and we need to do it quickly.
House Speaker Pro Tempore Pam Byrnes, D-Lyndon Township, can be contacted by phone at (517) 373-0828 or toll-free at (800) 645-1581. Her e-mail address is [email protected] and her website is byrnes.housedems.com.
______________________________________________________________________________________
September 24, 2010
By Sean Delaney, Press & Guide Newspapers
DEARBORN — A high speed rail system in Michigan and the Midwest — with a stop in Dearborn — will create nearly 58,000 permanent jobs and reduce highway and airport congestion, according to a new report released Monday by the Public Interest Research Group (PIRGIM).
"As the saying goes, 'you are either part of the problem, or part of the solution," said Meghan Hess, PIRGIM Program Associate.  "High-speed rail is a part of the solution — boosting our economy and creating jobs, modernizing our transportation system and helping to solve our nation's oil dependency, worsening congestion, and pollution.  High-speed rail gets us moving, in the right direction."
The new report, "Connecting the Midwest," analyzes the potential of high-speed rail to the Midwest, and looks at benefits specific to eight Midwestern states, including Michigan.
Key findings of the report include:
• A completed Midwest high-speed rail network will create nearly 58,000 permanent jobs, and support 15,200 jobs during the 10 years that it would take to construct the project. Improved passenger rail service would tap Michigan's manufacturing base to supply equipment for high-speed rail.
• Traffic congestions costs major Midwest metropolitan areas more than $10 billion annually in lost economic output.  Midwest high-speed rail will reduce air travel by 1.3 million trips and car travel by 5.1 million trips per year by 2020, curbing congestion.
• A high-speed rail connection between downtown Detroit and Chicago would feature ten trains per day, and reduce travel time between the cities to three hours and 46 minutes—faster than driving, and competitive with air travel (with airport waiting time taken into account).
• Improved passenger rail service in Michigan is already making an impact: Improved controls allowed Amtrak to increase speeds along parts of the Detroit-Chicago corridor in 2002 and 2005.  Amtrak ridership on Michigan trains increased 24 percent between fiscal year 2004 and fiscal year 2009, despite the economic downturn.
• High-speed rail will give consumers more transportation options. Fully 69 percent of Michigan residents would live within 15 miles of a high-speed rail station, and 71 percent of the state's workforce would be employed within 15 miles of a station. Regionally, 58 percent of Midwesterners, or 35 million people, would live within 15 miles of a high-speed rail station; 17 million would live within five miles of a station. More than one out of every four jobs in the region would be within five miles of a station.
• An Amtrak passenger uses 30 percent less energy per passenger mile than a passenger car, reducing dependence on oil. The system would prevent 188,000 tons of carbon dioxide emissions each year by replacing less efficient car and plane travel. The amount is equal to the annual emissions of 34,000 cars.
"By creating a more efficient rail system throughout the state of Michigan, industries such as tourism and the exporting of Michigan-made products will continue to grow and achieve national recognition," noted Daryl Jamieson, president of the Dearborn Heights Chamber of Commerce.
Mayor Gretchen Driskell of Saline added, "High speed rail is crucial to a successful Michigan future. Rail provides a transportation alternative that 21st century talent requires. We are competing globally for talent and we don't have the transportation system in place to be competitive. Additionally, it has been documented over and over again that every dollar invested in rail provides multiple returns in the form of real estate development and job growth."
In January, the Obama administration announced that 31 states will receive a portion of $8 billion in funding to build and plan for high-speed rail under the American Recovery and Reinvestment Act.  The Midwest received funds totaling $2.7 billion for rail projects in six states. A $244 million Recovery Act grant will pay for new rail stations in Dearborn, Troy and Battle Creek, as well as track improvements that will assist commuter lines between Ann Arbor, Detroit and Howell.
"The proposal being presented today represents a realistic program to raise passenger train speeds on the Chicago-Detroit corridor," said John DeLora, executive committee chair of the Michigan Association of Railroad Passengers. "While it will not create true 'bullet trains' such as those running in Europe or Japan,  it will create a program of incremental improvements, which will offer 100 mph train speeds over most of the route, dramatically shortening trip times."
The report urges Congress to invest adequate resources in intercity rail and set performance standards to fully realize rail's potential. It calls on the President and Congress to articulate a national vision for high-speed rail similar to the vision outlined by President Eisenhower for the Federal Highway system.
Dearborn Mayor Jack O'Reilly also lent his support to improvements in the local rail system in a written statement.
"Dearborn is an integral part of multiple rail initiatives, encouraging more people to use trains for commuting to their jobs or college classes, and for attending special events and visitor attractions," he said. "We are also excited about our new intermodal passenger train station. We are in support of the Midwest High Speed Rail Initiative because it broadens the economic opportunities for our community and promotes even greater environmental benefits"
For more on this story, see future editions of the Press & Guide.
Contact Staff Writer Sean Delaney at (734) 246-2702 or [email protected].
_______________________________________
September 14, 2010
President Obama is calling for more spending on the nation's infrastructure, including railroads. The original stimulus bill allocated $8 billion to develop high-speed passenger rail, and this year Congress added an additional $2.3 billion.
Still, high-speed-rail projects have not been on the fast track. New federal funding for high-speed rail requires states to share project costs with the federal government — a tall order for states already strapped for cash.
In some states, high-speed-rail funding has become a campaign issue. In Wisconsin, Republican gubernatorial candidate Scott Walker put together a cheeky ad in which clips from Obama are cut together with the candidate's pitch. In the ad, Walker interrupts Obama, stating that he "would rather take [$810 million set aside to build a high-speed-train line between Milwaukee and Madison] and fix Wisconsin's crumbling roads and bridges."
Walker is not the only Republican questioning rail spending. His opponent in the GOP primary, former Rep. Mark Neuman, says the high-speed-rail money should be returned and go toward tax cuts. Republican candidates in California, Ohio and Florida also say this is not the time to be spending money on high-speed rail.
It's a tempting political appeal to those voters fed up with government spending, but it still puzzles Kevin Brubaker of the Environmental Law and Policy Center.
"I certainly wouldn't be advising a Republican to come out against a project with as much broad-based support as high-speed rail," Brubaker says. "These projects are supported by the public, by chambers of commerce, by labor unions, by environmentalists. They're a win-win-win."
What's more, Brubaker says, the money cannot be returned or spent on other projects.
"If Wisconsin turns back high-speed-rail money, that money will simply be spent on high-speed-rail projects in Illinois, Florida or California," he says.
While Republican candidates have been railing against high-speed-rail spending, incumbents have actively sought the money. The Federal Railroad Administration says it received applications from 10 states for a share of the $2.3 billion in rail funding Congress appropriated this year. Together, their projects amount to more than $8 billion.
But while the high-speed-rail funds in the 2009 stimulus bill were outright federal grants, Congress added some strings to the money it allocated this year: States will have to chip in a 20 percent match. In Oregon, where planners would like to upgrade existing service, Betsy Imholt, the state's rail planning director, says it's a heavy lift.
"When you're talking about a $2 billion project … the match on that is $400 million — well, that doesn't exist," Imholt says.
Unlike highway projects, which have a dedicated revenue source, namely the gas tax, there is no such funding stream for rail, according to Imholt.
"Right now, we're kind of looking under the couch cushions for any spare change that's legal and available that we can put up for match. But that's going to run out here really quick, because there's not that much available," Imholt says.
Other states have scaled back or are delaying work on rail projects because they lack the necessary matching funds. Still, Peter Gertler, chairman of high-speed-rail services for HNTB, a transportation design and consulting firm, remains bullish on high-speed rail's prospects.
"I do think it's a challenge, but I do think that we're finding the champions for high-speed rail in California, in Florida, in the Midwest still see this as a significant opportunity for their regions, for their states — both as a transportation option and also as a stimulus option for getting people back to work," he says.
Despite political opposition, the Obama administration is standing solidly behind its high-speed-rail plans. In Wisconsin this summer, Transportation Secretary Ray LaHood vowed high-speed rail was coming to the state, saying there is no stopping it.
_______________________________________________________________________________________
________________________________________________________________________________________
________________________________________________________________________________________
Sep 2, 2010
CONTACT: Janet Foran, MDOT Office of Communications, 517-335-7176
Multi-million dollar renovations to Battle Creek passenger rail station can begin soon
September 2, 2010 — The Battle Creek passenger train station will receive Michigan's first federal grant for high-speed rail improvements, with work expected to begin early next year on station renovations. A $3.6 million grant recently approved by the Federal Railroad Administration is part of a nationwide $8 billion economic stimulus program to support high-speed rail projects around the country.
"The renovation of this building will provide a much needed facelift, making it more attractive and user friendly to the public," said Tim Hoeffner, administrator, Michigan Department of Transportation. "Battle Creek is the mid-point of the rail corridor between Detroit and Chicago and an important hub on Michigan's high-speed rail corridor. One of our goals is to upgrade rail facilities along this corridor to safely accommodate current and increased high-speed passenger rail services."
The Battle Creek station serves as a hub for intercity bus, rail connection and Amtrak Bus Connection. Battle Creek also is the crew base for Amtrak's onboard employees and facilitates the transfer of engineers and conductors to accommodate the efficient scheduling of trains.
Station improvements will include renovations to the 2,500-square-foot passenger lobby, new furnishings, and upgraded technology and security. Mechanical and plumbing systems also will be upgraded. The restroom will be updated according to Americans with Disabilities Act requirements and a family restroom added. The exterior of the building will be refaced and designed with a more contemporary look, and lighting and landscaping updated. Improvements to the facility will promote energy efficiency and incorporate green technologies.
The award-winning station was built in 1982 and served more than 51,000 passengers in 2009.
"The location of this facility makes it accessible to pedestrians, cyclists, and both intercity and local transit passengers. A great transportation facility can be a catalyst for community development and that's exactly what we hope will happen for Battle Creek," said Hoeffner.
MDOT: Working with our partners at airports, bus systems, marine and rail to find innovative solutions for Michigan's transportation systems.
To unsubscribe, send e-mail to: [email protected]
No subject or message body is necessary.
Privacy policy: MDOT will never share or sell your e-mail address or
personal information.
_________________________________________________________________________________________
August 30, 2010
While not directly related to trains, buses provide the backbone of an effective public transportation system and are essential to feed passengers to trains and help get passengers from trains to where they need to go.  Here is an interesting article on the economic benefits of transit to Michigan.

© 2010 MLive.com. All rights reserved.
____________________________________________________________________________________
August 18, 2010
FRA Receives 77 Applications for High-Speed Passenger Rail Funding Totaling $8.5 Billion
_____________________________________________________________________________________
August 16, 2010
______________________________________________________________________________________
August 16, 2010
While not directly pertinent to Michigan, this is an interesting article that deals with the benefits, arguments, and funding decisions related to high speed rail in the states vis-a-vis Spain and other countries.  Also, I returned from Spain two days ago where I toured a Talgo - Spanish train manufacturer who is building a facility in WI - assembly plant and traveled on the AVE line to Seville.
August 16, 2010
For the U.S. to have world-class high-speed trains, the government will have to subsidize them. The investment would be small compared to the billions lavished on highways and airports.
On March 11, 2004, at the height of the morning rush hour in Madrid's stately Atocha train station, 10 improvised explosive devices, like those used in Iraq and Afghanistan, ripped apart four commuter trains, killing 191 people and injuring some 1,800 in the worst act of terrorism in Europe since the explosion of Pan Am flight 103 over Scotland in 1988.
Today, the Atocha station feels about as removed from that horror as one could imagine. Much of the spacious, high-ceilinged waiting area has been transformed into a walkable, indoor forest, with giant ferns, palms and lily pads; famed Catalan cellist Pablo Casals wafts through the sound system. My teenage son and I are waiting for the AVE high-speed train to Barcelona, the most recently opened high-speed rail line in a much-praised system that Spain inaugurated in 1992. The experience is more like visiting a museum than grabbing a train. There are no hourlong lines. Our shoes remain sensibly on our feet.
As we stride single file onto the eel-like, German-made Siemens S-103 train, which seats 402 and will take us to Barcelona in 2 hours and 38 minutes, it's hard not to be impressed. On board the AVE (for Alta Velocidad Española, but also, coincidentally, bird in Spanish) the colors are generic corporate blues and grays, with Wi-Fi, croissants and a flat-screen TV beckoning. Within minutes we're hurtling through the high plains and olive groves of Don Quixote land. A small digital sign in the business car flashes our top speed: 300 kilometers or 186 mph.
Unlike in America, no freight trains or conventional passenger trains compete for these tracks, which are fenced-off and raised on concrete ties. With few stops, the electrified AVE trains on Spain's four major routes maintain a 99 percent on-time record, according to RENFE, the state-owned company that operates the trains. RENFE puts its euros where its mouth is by offering passengers on the Madrid-Seville route a total cash refund if the AVE is more than five minutes late. With seats as cheap as $60 roundtrip, the Madrid-Barcelona trains have proven so successful that RENFE says it now has lured away nearly 50 percent of the Iberia Airlines traffic on that popular 375-mile route.
Spain's success story with high-speed rail goes well beyond merely transporting people.
One hundred miles south of Madrid, the once-dispirited town of Ciudad Real (pop. 73,000) has been able to attract more professors to its University of Castilla-La Mancha campus because the AVE, which arrived in 1992, has reduced the commute from Madrid to 50 minutes, rather than two hours by car. "The school is here because of the AVE," José María Menéndez, head of the civil engineering department, told The Wall Street Journal. "Without it, it would be impossible to attract the high-level staff we need." Full trains of "Avelinos" now bring hundreds of professionals from Madrid to Ciudad Real's new information technology firms, regional hospital and international airport.
In Zaragoza, an alluring city of 700,000 halfway between Madrid and Barcelona, Socialist Mayor Juan Alberto Belloch told me he was initially concerned that only the rich would benefit from the fast train, but the AVE created an unanticipated type of middle-class tourism. Day-trippers from Spain's two largest cities now come for shopping, major soccer games and religious shrines, arriving in about 80 minutes by AVE instead of three hours by car. Here, too, the AVE has attracted high-tech firms, new housing, shops and a stunning new train station. "Socialist, conservative … we all agree on AVE," Belloch says.
AVE ridership has grown on every route, and there are plans to build another 6,213 miles of high-speed track by 2020. If those plans can survive Spain's stout recession, the country will be second only to China in the amount of high-speed rail track, and 90 percent of Spain's 47 million people will live within about 30 miles of an AVE station. It's a success story that has had President Obama effusing over Spain's trains at the White House.
Yet there are those in America who insist Europe is so different politically and culturally that the U.S. may never be able to duplicate what seems to occur so naturally there. Behind the politics and ideology, however, are the financial facts of high-speed rail. Those facts are complicated and open to parsing in many different ways — ways that are often inflected by the political ideology of the parser. Still, a few are clear: All forms of mass transit are subsidized. Overall, high-speed rail is far more cost effective than its opponents claim. And high-speed rail could become a significant part of America's transportation mix with far less investment than has been poured into highways and airports.
After four decades of White House policy ranging from indifference (Carter, Clinton) to hostile neglect (Nixon, Reagan, two Bushes), America's woebegone passenger rail system had become, by Barack Obama's inauguration in January 2009, a tired cultural punch line. As Obama took his oath, chances were good that Americans who didn't live along the Pacific Coast, in the upper Midwest or between Boston and Washington, D.C., rarely saw, much less used, a daily passenger train. Of the 32 most developed nations, none has a lower percentage of inter-city rail riders than the United States — a mere 0.3 percent compared to Japan's world-leading 27 percent. Unthinkable in Europe, America has metro areas with more than a million people — such as Nashville, Tenn., Columbus, Ohio, Phoenix and Las Vegas — with no inter-city passenger rail of any kind, at any speed.
Over the last 20 years, this rail ridership gap between America and the rest of the industrialized world has only widened, as China, South Korea, Japan, France, Italy, Germany and Spain committed hundreds of billions of dollars not just to seamless networks of conventional trains (that is, those that travel at speeds below 125 mph) but to the construction of sleek, electrified, high-speed trains that can exceed 186 mph. From Shanghai to Madrid, from right-wing to socialist, governments taxed their citizens and granted subsidies or entered into private partnerships to fund their fast trains, convinced they would not only speed up regional travel, but also reduce carbon emissions and oil dependence, relieve traffic congestion, rejuvenate dying towns and create millions of jobs. In virtually every developed nation except the United States, although there may still be pitched political battles over immigration, foreign policy and soccer, hardly anyone argues about the wisdom of their fast trains.
Less than three months into his presidency, Obama announced his plan to spend $13 billion in federal stimulus funds over five years to seed America's first HSR projects. "Imagine boarding a train in the center of a city," Obama preached to a receptive choir at a White House ceremony. "No racing to an airport and across a terminal, no delays, no sitting on the tarmac, no lost luggage, no taking off your shoes. … There's no reason why the future of travel should lie somewhere else beyond our borders. Building a new system of high-speed rail in America will be faster, cheaper and easier than building more freeways or adding to an already overburdened aviation system — and everybody stands to benefit."
Rail fans like to point out that Abraham Lincoln got roughly $7 billion — in current dollars — approved for the first transcontinental railroad during the Civil War. But in a time of crippling state and federal deficits, does America have the political will to spend perhaps a trillion dollars over 20 years on trains?
Although Obama's $13 billion commitment was the largest single allocation of federal money ever given to passenger trains — even adjusted for inflation — there was no delusion at the White House that it was anything more than a down payment. One would have to return to 1958 to find a year the federal government spent that little on highways. Not only was the $13 billion dwarfed by the recent federal bailouts — Citibank and AIG received about $460 billion combined — or the $1 trillion spent in Iraq and Afghanistan, but Obama's fast-train stimulus also pales next to spending by countries like Spain. In California alone, wishful estimates are that a decade-long HSR project from Los Angeles to San Francisco could cost $45 billion.
These Monopoly-money figures have fueled a cottage industry of critics who insist no amount of feel-good projections about reduced carbon footprints can justify such expensive projects.
Harvard economics professor Edward L. Glaeser pummeled high-speed rail in a series of columns in The New York Times, arguing with the "dull arcana of rail costs and direct benefits" that a hypothetical 240-mile HSR line from Dallas to Houston can't be justified financially. I'll spare you some micro-ciphering, but Glaeser builds his thesis on such projections as: Operating expenses will run about 30 cents a passenger mile, or some $72 per passenger for the 240-mile trip; the Texas route might attract 1.5 million trips a year (about as popular as all airplane flights between the two cities today); track maintenance could cost $200,000 a mile per year (or $648 million); and the train, traveling at 150 mph, would save riders just one hour over the same airline flight, even allowing for the airport delays on both ends.
After running his numbers, Glaeser says the annual capital costs will be more than six times his projected "benefits" ($102 million), thus exposing "the cruel arithmetic faced by people, like myself, who would love to be pro-rail."
Not to be outflanked by those who say high-speed rail's hard-to-quantify "social benefits" are what make it so valuable, Glaeser conjures up the average fuel consumption per mile of each passenger on a domestic airline flight (about 0.022 gallons), throws in 157 pounds of carbon dioxide produced on a 240-mile car trip, and a fair-minded guess that one-half of the rail riders used to take cars and one-half used to take airplanes, and arrives at this: Each 240-mile train trip would rid the atmosphere of 113 pounds of carbon dioxide for each passenger, implying, Glaeser says with a drum roll, "that trains are green."
Argument over, right? "Trains reduce carbon emissions, and the world should reduce its carbon footprint," Glaeser writes, "but those two facts don't make the case for rail. Trains make sense only if they are a cost-effective means of reducing carbon in the atmosphere."
He's not done. Using a liberal estimate that removing a ton of carbon dioxide emissions creates an "environmental benefit" of $50, Glaeser says the total global-warming benefit of taking those 1.5 million Dallas-to-Houston rail riders out of their cars and planes is some $4.24 million a year. Add in another $8.73 million in safety benefits by taking 750,000 drivers off the road and an equal amount for reducing local air pollution, gasoline dependency and road repair, and Glaeser determines that "the environmental and mortality benefits of rail are real, but the magnitude of the social benefits from switching [to high-speed rail] seems quite small relative to the cost of the system."
Unimpressed, Yonah Freemark, a Yale research fellow who writes about urban development for websites such as The Infrastructurist, says Glaeser's analysis is "a sorry mix of omission, oversimplification, distortion and deficiency." I also can't do justice to Freemark's full rebuttal here, but essentially he says Glaeser underestimates the future growth of Dallas and Houston and the potential number of high-speed rail riders and uses an unrealistic rail route that doesn't account for regional air passengers who would ditch planes for trains. (I also think Glaeser underestimates down time at both airports.) Freemark predicts that the Texas high-speed train would have annual construction and maintenance costs of $810 million and "benefits" totaling some $840 million — a decent profit.
In these debates on rail economics, it seems that numbers can be shaped to please almost anyone. Here's a favorite of rail critics that I must admit has the ring of truth: In a March 2009 study, the Government Accountability Office said researchers have found that, in dozens of transportation studies involving rail projects, projected costs were underestimated while potential ridership was overestimated. But the reality is that high-speed rail cost projections are all over the map throughout the world and vary greatly depending on factors like the terrain of the rail route (tunnels and earthquake zones get expensive), labor costs and the price of right-of-way. In Spain, construction costs ranged from $37 million to $53 million per mile, and in Japan, one route (Takasaki to Nagano) ballooned to an estimated $143 million per mile due to bridges and mountainous terrain. But rail critics don't often mention that the no-frills high-speed rail projects in Korea and China are considerably cheaper.
And high-speed rail's more intangible benefits — its ability to rejuvenate blighted urban areas or attract urban professionals to small-town hospitals, universities and high-tech centers — are far more difficult to quantify. Just gauging real estate prices and sales tax revenues doesn't seem to capture the healthy social impact of smart trains. How does one properly value the anxiety and loathing now associated with airline travel, compared to the relative joy of riding trains?
What Glaeser, one of high-speed rail's more civil critics, ultimately suggests is what Europe already knows: Perhaps passenger rail will have to be subsidized by the government, not unlike our Social Security, NASA, thousands of libraries and fire departments and all our roads and airports. This hardly elicits cries of nanny-state socialism in Europe, where government-run, comprehensive health care has been in place for decades, but in America it has become a call to arms for libertarians and "fiscal conservatives" who insist that high-speed rail must pay for itself, while ignoring the massive subsidies received by the auto and airline industries.
The Heritage Foundation's Ronald Utt is typical of many rail critics. Often citing the work of other right-leaning think tanks such as the Cato Institute or the Reason Foundation, Utt dismisses high-speed rail as a massive waste of money that "pander[s] to key constituencies: environmentalists, rail hobbyists, and labor unions." Yes, Utt is bothered by the prospect of high-speed trains that provide real middle-class jobs to American workers who might belong to unions, a threat to the country, one surmises, only surpassed by the unbridled political might of … rail hobbyists.
Back on Earth, one wonders why fiscal watchdogs fail to see the full picture on federal transportation subsidies. Aviation not only receives billions for basics like Federal Aviation Administration operations, airline security, noise mitigation funds for homeowners, and air service to small communities, but airports themselves benefit from tax-free financing on everything from cargo buildings to retail stores — not to mention that the FAA covers 75 to 95 percent of airport planning and development costs in outright grants.
Still more curious is why anti-rail critics don't concede the fact that our nation's highways are subsidized with every gallon of gasoline we buy, yet — despite conventional wisdom to the contrary — they rarely pay for themselves. (The federal gas tax has remained at 18.4 cents a gallon since 1993, and the Congressional Budget Office estimates that will produce more than $40 billion in highway construction and maintenance funds — the Highway Account, part of the Highway Trust Fund – annually through 2011.) How can they fail to have noticed a much-publicized, man-bites-dog study in 2008 from the car-loving Texas Department of Transportation that boldly stated: "There is not one road in Texas that pays for itself based on the tax system of today. Some roads pay for about half their true cost, but most roads … pay for considerably less." (In fairness, one possible motivation for the iconoclastic Texas study could be Republican governor and White House-aspirant Rick Perry's open love of toll roads.)
The Highway Trust Fund was actually depleted by 2008 and required its own congressional bailout of some $8 billion, but fans of concrete can hardly say they've been shortchanged over the years. Since 1983, mass transit has only received about one-eighth of those highway taxes, and none went to true high-speed rail because, to date, the U.S. has no true high-speed trains. (Why the federal highway fund is empty is another story. Failing to index the federal gas tax to inflation was a "colossal error of judgment," writes Melissa Lafsky on The Infrastructurist, noting that Congress, motivated by "political gain rather than public good," hasn't the guts to raise the tax on such a daily meat-and-potatoes item for most Americans.)
That silent pervasive tax at the gas pump (including state taxes) has made America's interstate highway system the envy of the world, yet the colossal appetite for highway funding — most states, like Texas, prevent their highway gas taxes from funding anything but roads — has crippled passenger rail in America. There's no quicker way to make a rail fan weep than to imagine a portrait of an America that funded passenger rail slowly but surely for the past 30 years with, say, just 20 percent of the highway funds collected annually. Thanks to the 2009 stimulus bill, there will be an injection of billions of dollars into U.S. passenger rail, but whether that represents the start of a rail renaissance or a one-time fiscal anomaly may depend, weirdly enough, on how many tourists want to take the train to Disney World.
It's an unusually cold and blue spring morning in Orlando, Fla., but inside the wide hallways of a new Hilton, amid the understated charm of the Walt Disney World and Convention Center ghetto, there's plenty of heat radiating from an earnest crowd of developers, lobbyists, public relations people, elected officials and local TV news crews. They're here for a conference sponsored by the Washington D.C.-based U.S. High Speed Rail Association, and without impugning the infrastructural altruism of such attendees as DLA Piper, reputedly the largest law firm in the world (3,500 lawyers, 29 countries), or Hill & Knowlton, once the planet's largest PR firm, it certainly seems that a lot of them are on the make.
"Whenever I see this many lawyers in one place, I know someone smells money," a European construction firm manager jokes. Suggesting as much, the Center for Public Integrity reported that more than 50 public and private groups were actively lobbying Congress on high-speed rail policy in late 2009, a threefold increase from a year earlier.
Speaking for many, an Egyptian-born engineer tells me bluntly over morning muffins, "I'm trying to figure out how my company can get a piece of that $8 billion." He refers to the first round of Obama's high-speed rail funding, which gave money to some 13 rail projects benefiting 31 states. The big winners were the Midwest ($2.6 billion to connect Chicago, Detroit, Milwaukee, St. Louis and several Ohio cities with trains running below 125 mph), California ($2.25 billion for true high speed from Los Angeles to San Francisco, estimated to cost more than $45 billion), and the Sunshine State, which got $1.25 billion for what is widely considered the most shovel-ready high-speed rail project in the nation, an 84-mile route from Tampa to Orlando that will operate at speeds up to 168 mph.
You read right. If and when nearly-high-speed passenger rail actually debuts in America, its inaugural route will likely be a petite, almost World's Fair exhibition-like 84 miles, from downtown Tampa to the Orlando airport, with three stops, including Walt Disney World and the Orange County Convention Center. If you're a central Floridian not wanting to fly somewhere, attend a convention or go see Goofy, the long-awaited rail line may be a bit underwhelming.
"Florida got funded because it's cheap, straight, flat, and tourists will like it," our European construction executive says. "It is a bit of a joke, but America has to start somewhere."
A tourist-heavy rail line will hardly be a total waste — Florida's many tourists clog the freeways as effectively as natives — but neither will it be a Madrid-to-Seville, life-changing epiphany that siphons hordes of SUVs off roads, makes suburbanites rue their lifestyles and builds a flood of grassroots political support for high-speed rail. Those are the kinds of projects some vocal infrastructure wonks wanted Obama to fund first. Instead, the $8 billion in seed money is spread politically thin and wide to fund lots of smaller rail-crossing and station-renovation projects, as well as conventional trains.
Though many would have rather seen the 235-mile Orlando-to-Miami leg completed and shown to the nation first, Florida's mini-route might be a logical baby step for America. Simple to engineer and promising some 15,000 jobs over five years, the Tampa-Orlando line is indeed arrow-straight and pancake flat, and it will fit neatly within the median of crowded Interstate 4, unbothered by expensive tunnels, hills or swamps.
"And the Florida project is a bipartisan effort," says DLA Piper partner Mike Bedke, a Republican insider who helped shepherd Florida's successful bid. "In statewide politics, they say, as goes the I-4 corridor, so goes Florida. In a state almost perfectly divided between Republicans and Democrats, the I-4 corridor is the perfect microcosm. And Obama needs Florida, so I think Obama was pretty sharp."
Florida's decades-long effort to get high-speed rail featured a litany of legislative starts and stops, illustrating that a lack of political continuity and commitment remains one of the largest obstacles to America ever building a seamless, European-style high-speed rail system. Florida had one of the country's most advanced plans as far back as 1976 and was close to beginning construction in the late '80s, but political infighting stalled the project, and in 1998 then-Gov. Jeb Bush redirected high-speed rail funds to roads, killing fast trains. In 2000, seeking a secure source of funding regardless of who ran the statehouse, rail supporters pushed through a state constitutional amendment directing lawmakers to begin construction by 2003. More studies ensued, then Bush vetoed additional high-speed rail funding in 2003, and the newly won state constitutional amendment was repealed. Five years later, under Gov. Charlie Crist, the high-speed train plan was resurrected, and in 2009, Florida got its federal funding.
In most European countries, where centralized governments have taken a far more decisive and cohesive hand in passenger rail projects, there are few of these excruciating state-by-state funding battles that ebb and flow with every change in political control. In America, although HSR support has become slightly more secure as Republicans warm to mass transit, it is not hard to imagine besieged state lawmakers eyeing allocated rail funds as they try to soothe their deficits. Even Obama's promise to fund high-speed rail over five years only looks as secure as the number of Democrats in Congress after November's midterm elections.
Political pragmatism says rail fans shouldn't nitpick Obama's game-changing gift of $13 billion. Better to build upon small successes, some say, than reach too high too quickly. Congressmen like Jim Oberstar (D-Minn.), chairman of the Senate Transportation and Infrastructure Committee, promise billions more for high-speed rail in coming budgets, and some Obama legacy-watchers genuinely think he may become for passenger rail what Eisenhower was for America's interstate highways.
Yet there are justified fears that our country's incremental, half-speed approach — rather than a legitimate, man-on-the-moon national campaign guaranteed by decades of continuous funding focused on energy independence, jobs and curbing climate warming — might not be enough to alter the course of a me-first, car-first nation, until, of course, $8-a-gallon gas does the altering for us.
______________________________________________________________________________________
Here's an animated video from the SEMCOG website offering a glimpse at what the Ann Arbor- Detroit Commuter rail could like:
______________________________________________________________________________________
Next stop: Environmental impact statement
August 10, 2010
The up to $500 million public-private effort to build a light-rail loop on Detroit's Woodward Avenue has gained initial support from the Obama administration and soon will begin the environmental impact study process that could qualify it for up to 80 percent federal funding, organizers say.
The system that would run from Hart Plaza to the city limits at Eight Mile Road is expected to be operating by 2016, said Bob Berg, partner and vice president at Detroit-based Berg Muirhead and Associates, which does media relations work for the city.
U.S. Transportation Secretary Ray LaHood is scheduled to announce today that the project is beginning the 12- to 18-month process of putting together the environmental impact statement. His department oversees the process and will determine if the project will be awarded funding.
"As long as you follow the (environmental) process, you end up with a light-rail system," Berg said. "It's a major step forward. They're saying the federal government is supportive of this process. The thought is you can get a shovel in the ground by next year."
LaHood also is expected to say that a $25 million federal Transportation Investment Generating Economic Recovery grant awarded to the Michigan Department of Transportation in February for the rail project will be transferred to the Detroit Department of Transportation.
The city has hired Parsons Brinckerhoff as the consultant to manage the environmental impact statement process, which includes public input on a draft statement that includes costs and alternatives, and then the assembly of the final study and submission to the federal government. Parsons Brinckerhoff is based in New York City but has a Detroit office.
The statement is required under the National Environmental Policy Act.
The money the city will seek will come from an application to the Federal Transit Administration's New Starts program, which is aimed at new surface transportation projects, such a commuter and light rail.
Approximately $180 million — the $125 million being raised by the private sector and $55 million programmed by DDOT — has been earmarked locally toward the estimated $220 million needed to match a federal grant, the city has said.
"The strength of their project will dictate, from a percentage point of view, how much to ask for," said Carmine Palombo, director of transportation planning for the Southeast Michigan Council of Governments, the area's regional transportation planning agency. "The goal is not just to get a project that is environmentally clear; the goal is also to get one you can fund."
While the federal government could pay up to 80 percent of the project, the trend today is for a 70-30 or 60-40 split, Palombo said.
Detroit will be competing with other cities for the New Starts money.
"I have no doubt the FTA would love to invest money in Detroit," Palombo said. "That doesn't mean they're going to waive the requirements."
A light-rail extension in Portland, Ore., for example, sought 60 percent of its $1.5 billion cost, but the FTA last month awarded 50 percent.
About $1.6 billion was budgeted for New Starts and subsidiary program projects in the current fiscal year. Seeking less federal money usually improves a project's chances of getting the money it does seek, he added. Having the private funding should help the project's funding odds, too.
DDOT is cooperating with a private group called M1 Rail to construct the light-rail loop in two phases.
M1 Rail has raised $125 million to build the 3.4-mile, 12-stop stretch from Hart Plaza to New Center. An agreement was worked out in Congress to allow the funding raised by the private group to qualify as the required local matching money needed for additional federal funding.
The M1 Rail portion will be part of the environmental impact statement process, said Matt Cullen, CEO of the project.
M1 Rail's backers include Penske Corp. founder Roger Penske, who is chairman of the project; Peter Karmanos Jr., founder of Detroit-based software maker Compuware Corp.; Mike Ilitch, owner of the Detroit Tigers and Detroit Red Wings and co-founder of Little Caesar Enterprises Inc.; and Quicken Loans/Rock Financial founder Dan Gilbert, who's the project's co-chairman.
Cullen is also president and COO of Gilbert's Rock Enterprises holding company.
Also contributing M1 funds are the Troy-based Kresge Foundation ($35 million) and the city's Downtown Development Authority ($9 million) and companies and institutions that bought advertising rights to the line's stations at $3 million each. Some level of bank financing will be sought as well.
M1 Rail, which received needed legislative approvals and operating funding mechanisms in January, will operate as a nonprofit and eventually be turned over to a proposed regional transit system. The private project is under the supervision of the nonprofit Downtown Detroit Partnership, a private-public partnership led by Penske.
The city initially planed to build the entire rail loop starting downtown but scaled back its effort to allow M1 Rail to handle the stretch it wants to build.
Project backers originally estimated the privately built stretch would be open by 2012 and the remainder by 2013, but the federal process delays that.
Expected at LaHood's announce this morning at the Detroit Institute of Arts are Detroit Mayor Dave Bing, Gov. Jennifer Granholm, U.S. Rep. Carolyn Cheeks Kilpatrick, D-Detroit, U.S. Sen. Debbie Stabenow, D-Mich., and Peter Rogoff, administrator of the Federal Transit Administration.
Bill Shea: (313) 446-1626, [email protected] ______________________________________________________________________________________
August 10, 2010
Metromode, 8/5/2010
By Kristin Lukowski
The combo rail, bus, car, bike, and pedestrian facility that will serve Birmingham, Troy and the entire area has secured its funding and is now working out the kinks for construction.
The transit center received $8.4 million from the Federal Railroad Administration earlier this year, bringing to the total to about $10 million, more than the $7 million planners hoped to build it with. Other funds came from stimulus money and Michigan Department of Transportation matches. "We've got more money than we originally anticipated," says Jana Ecker, planning director for city of Birmingham.
Birmingham and Troy had also set aside money to contribute, just in case, but it's looking like that won't be needed after all. "The way things have been going with the funding, I think we're going to be OK," Ecker says.
Planners can't pinpoint a construction schedule yet because it's hard to tell when the Federal Railroad Administration is going to actually deliver the money. "We've been giving them oodles and oodles of paperwork," Ecker says. "It was great when we got all the funding in place, but we still have a lot of hurdles and hoops to jump through to get everything coordinated and wrapped up."
The next site plan review meeting is scheduled for Sept. 8, which should give them preliminary approval. Details have remained mostly unchanged, and include a pedestrian tunnel and areas for traffic from bicycles, automobiles, buses and the planned northern extension of the Detroit-Ann Arbor commuter rail line. Optimistically, Ecker hopes to see a late fall groundbreaking.
The proposed site is in Birmingham's emerging Rail District. The cities plan to create a transit oriented development district around the station that would roughly be bordered by Crooks, Adams, Maple Road, and Lincoln Street.
Ecker says there will likely be joint planning in the transit center area in the form of a transit center district, which could make help increase development in the surrounding area. "People are so happy to see something's actually going to be done," Ecker says.
Source: Jana Ecker, planning director for city of Birmingham
______________________________________________________________________________________
August 5, 2010
Six major railroads—two passenger and four freight—pass through the Chicago neighborhoods of Ashburn, Englewood, Auburn Gresham, and Chatham. These railroads cross at several points within the area. The crossings result in congestion and delays.
To relieve resulting congestion, a unique public-private partnership is developing the "75th Street Corridor Improvement Project" (CIP) under the Chicago Region Environmental and Transportation Efficiency Program (CREATE). CREATE is a joint effort of the Illinois Department of Transportation (IDOT), the Federal Highway Administration (FHWA), the Chicago Department of Transportation CDOT), and the Association of American Railroads (AAR).
Metra operates two lines: the South West Service Line and the Rock Island District Line. Amtrak's Cardinal Service also runs through the project area. The four freight railroads are the Norfolk Southern (NS), CSX Corporation (CSX), Union Pacific (UP), and the Belt Railway Company of Chicago (BRC).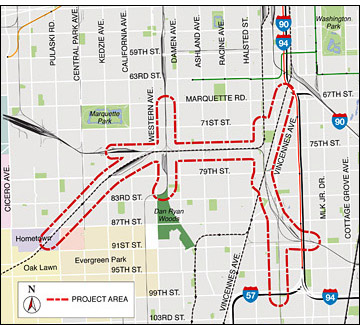 ______________________________________________________________________________________
August 5, 2010
from US Secretary of Transportation Ray LaHood's blog.
________________________________________________________________________________________
August 3, 2010
Here are a couple of powerpoint presentations that make for interesting viewing. The first is from SEMCOG and gives an update on the Ann Arbor-Detroit Regional Rail Project. The second is regarding the Wally Commuter rail.
Ann Arbor Detroit 04 27 10 Update
_________________________________________________________________________________________
August 3, 2010
Here are three articles giving updates on the Woodward light-rail project:
BY MATT HELMS
FREE PRESS STAFF WRITER
———————
Transportation chief to give details in Detroit stop today
Nathan Hurst / Detroit News Washington Bureau
Washington — Light rail down Woodward will get a boost today when local and federal officials announce the clearance of major regulatory hurdles for the public transit project.
U.S. Transportation Secretary Ray LaHood, Detroit Mayor Dave Bing and private funding partners are expected to announce plans to do a required environmental study, clearing the way for construction of the light rail project.
Megan Owens, executive director of Detroit public transit advocacy organization Transit Riders United, said light rail on Woodward would offer a "critical kick start" to building out a larger regional system over the coming decade.
A group called M-1 Rail, which includes big-name donors like Mike and Marion Ilitch, Roger Penske and Peter Karmanos, attracted $125 million in funding, which will be used as matching funds by the city when it eventually builds its portion of the $425 million project.
The project also was awarded a $25 million federal stimulus grant in February.
Owens said the early buy-in to the light-rail concept by Detroit's influential business community lends weight to project's viability. Many of the project's supporters are looking to Portland, Ore.'s MAX light-rail system as a model for transit-based redevelopment. There, housing, retail and entertainment districts have clustered around a light rail system integrated with the city's bus routes, and use of vehicle alternatives has increased.
"There's prime opportunity in Detroit to replicate that kind of success," Owens said.
LaHood tagged along with President Barack Obama on his Friday trip to Michigan, where they toured two auto plants — one in Detroit and one in Hamtramck — and touted the nascent recovery of Michigan's backbone automotive manufacturing sector.
The Woodward Light Rail project, backers hope, will eventually spur a $10 billion regional investment in a comprehensive public transit system for Metro Detroit with light rail at its core.
The Detroit Department of Transportation studied a number of potential light rail lines in the city and announced that the Woodward line would be the most logical starting point.
The line is slated to run from Jefferson Avenue up Woodward to New Center in the first phase, and to Eight Mile Road in a later phase. It will be the first new rail-based public transit project to Michigan since the 1987 opening of the Detroit People Mover.
[email protected] (202) 662-8738
From The Detroit News:
—————————-
Leonard N. Fleming / The Detroit News
Detroit — Construction on the Woodward Light Rail project from downtown to Eight Mile is expected to begin next year, and the federal government has pledged to conduct an environmental impact study required for the plan to move forward.
City, state and federal officials announced plans for the study today at a news conference on the steps of the Detroit Institute of Arts — one of the proposed stops on the route. The study, which officials expect to take a year to 18 months to complete, must be done to so that federal matching funds can be used.
The total project, which will create a light-rail system with multiple stops to spur economic growth along the Woodward rail corridor, is expected to cost anywhere from $450 to $500 million. So far, $125 million in private and public funds have been raised to complete the first phase of the project with the hope that the federal government will pick up much of the rest.
"As far back as Coleman Young's first term as mayor, there's been a great deal of discussion and efforts to develop a light-rail system here in the city," said Mayor Dave Bing. "Today we are here to announce that we've reached a major milestone on the road to turning the dream of light rail into a reality in the city of Detroit."
Bing, who has been pushing for this project since taking office last year because he sees it as integral to Detroit's rebirth, was joined by Transportation Secretary Ray LaHood, Gov. Jennifer Granholm and a host of other city, state and federal officials touting a project that has long been in the making.
"If you've visited other cities as I have to see the impact of light rail, you see the development that it generates is equally important to the convenient transportation that it provides," the mayor said.
LaHood said this light rail project will become a "model for the country" given the public and private partnership to raise funds for the project to see that it gets completed.
"Projects like this cannot be done just with public dollars," LaHood said. "This will become a model for the country: public-private partnerships, foundations coming together with the state, the city, the entire delegation around the idea that if you build it they will come. I believe that."
Bing administration officials say the project could create as many as 10,000 jobs. Granholm said the downtown light rail project will now open to the door to other light rail connections to projects planned for Ann Arbor and a high-speed rail project to places like Chicago.
The plans call for multiple stops and the ones under consideration are: Wayne State University, Tech Town, Detroit Medical Center, Campus Martius Park, College for Creative Studies, the State Fairgrounds and the New Center/ Henry Ford Hospital area. The federal government has yet to conduct ridership studies, but that will be part of the environmental impact statement conducted over the next year, officials said.
The first phase of the project that would begin in 2011 will stretch from downtown to West Grand Boulevard, approximately 3.4 miles. The second phase will go from Grand Boulevard to Eight Mile and is estimated to be completed by 2016.
The first public meeting regarding the Woodward Light Rail Project will be held Aug. 14 at the Considine Little Rock Family Life Center.
[email protected] 313-222-2072
_________________________________________________________________________________________
July 29, 2010
Melissa Domsic • [email protected] • July 28, 2010 • From LSJ.com
EAST LANSING - Plans to redevelop the East Lansing Amtrak station are chugging along as the city continues to seek project funding.
The U.S. Senate Appropriations Committee last week approved $2.5 million in federal funds to construct a new multi-modal transit center at the site of the train station at 1240 S. Harrison Road.
The 35-year-old station also serves as a bus stop for Greyhound Lines Inc. and Indian Trails Inc. The Capital Area Transportation Authority has a nearby stop on Harrison Road.
The $2.5 million appropriation for East Lansing was the largest of 10 transportation and housing projects in Michigan that received committee approval. Others included $2 million for a commuter rail between Detroit and Ann Arbor.
The appropriations bill still needs approval from the House and Senate before President Barack Obama can sign it into law.
The city of East Lansing originally requested $7 million in federal appropriations, said Lori Mullins, the city's community and economic development administrator.
Still, the smaller amount will help pay for a new building and some circulation improvements, she said.
The city is looking for other ways to fund the rest of the $20 million redevelopment that would include a parking structure, relocating Michigan State University facilities from the site to campus and improved CATA facilities.
Read Thursday's Lansing State Journal for more on this report.
_________________________________________________________________________________________
July 28, 2010
The issue of putting Michigan's latent manufacturing infrastructure and expertise to work building locomotives, train cars and their constituent parts has come up in each of the Michigan By Rail forums.  This is certainly a good possibility.  Wisconsin was able to attract Spanish train manufacturer Talgo to build two facilities in that state this year by investing in its rail system and purchasing trains from Talgo.
Here is an article from subscription-only Michigan political insider rag that references manufacturing and high speed rail components specifically at the end.
From MIRS (7/26/10):
Prof: Green Jobs Will Replace Manufacturing Jobs
(LOUSIVILLE, KY) — The United States has lost 20 percent of its manufacturing in a decade, but a mechanical engineering professor said today that sustainable and green jobs will replace them in the decades to come.
I.S. JAWAHIR of the University of Kentucky Center for Manufacturing said that green jobs are growing. Even in the recession, the recycling industry is "booming," he said.
"It's going to take time, but it's beginning to show some benefit," Jawahir told MIRS after a session on American manufacturing in the 21st century at the National Conference of State Legislatures' (NCSL) annual meeting.
Examples of sustainable jobs are renewable energy, energy efficiency and green buildings, Jawhir said.
***
He argued that the United States should have a huge advantage in manufacturing products and selling them overseas, but overvaluing dollar and health care costs hurt that. McKinnon said he's not a protectionist, but the federal government has to work on unfair trade agreements.
"We have done a terrible, terrible job making sure the arrangement we have for trade in this country is done fairly and in the interest of the people living and working in this country," he said.
McKinnon talked about how states are trying to attract new manufacturing. He said legislators also should look at what kind of value companies are adding with their manufacturing process. Low value-added manufacturing is "very easy to move offshore," McKinnon said.
"I'm sure you have companies coming to you asking for money," he told lawmakers. ". . . What you don't want is companies that take tax subsidies, use 'em and leave."
He noted a lot of states, including Michigan, are hoping to attract high-speed rail projects. He said all high-speed rail companies have their manufacturing offshore.
__________________________________________________-_______________________________________
July 27, 2010
City of Ann Arbor resolution supporting MDOT's HSR application:
Resolution to Support Michigan High-Speed and Intercity Passenger Rail Programs
Memorandum
The attached resolution expresses the City of Ann Arbor's support for the State of Michigan to develop and fund a comprehensive system of high-speed rail and intercity Passenger Rail.  The Michigan Municipal League (MML) has requested such a resolution from the City and other communities to help support the continued investment in this important public transportation program area.
As a first step in their involvement, MML is demonstrating broad community support for the MI Department of Transportation's (MDOT) new application for funding from the $2.5 billion second round of federal high-speed rail grants that were announced at the end of June and due by August.  The MML will compile a set of local government resolutions of support from communities throughout the State and provide it to MDOT for their application to be submitted to the federal Rail Administration.
Other activities the MML lead caucus might play include working with other organizations and MDOT as the state prepares its new statewide rail plan as required by the federal Passenger Rail Investment and Improvement Act of 2008.  This process, recently begun, will take off in earnest later this fall.  Additionally, a coordinated effort from communities that understand and support rail investments would prove extremely valuable in state budget discussions on continuing Amtrak funding support in the state budget.  The caucus can also support new legislation that could provide state-level funding for rail infrastructure projects, transit-oriented development, or commuter/light rail projects.
Staff
Prepared by:  Eli Cooper, Transportation Program Manager
Reviewed by:  Roger W. Fraser, City Administrator
Sponsored by: Mayor John Hieftje
Whereas, The United States of America has made a considerable financial commitment to expanding the nation's high-speed and intercity passenger rail (HSIPR) network, appropriating $4 billion last year for both state corridor development efforts and Amtrak state of good repair investments in the FY10 Consolidated Appropriations Act;
Whereas, The President and Vice-President announced in January 2010 an additional $8 billion in American Recovery and Reinvestment Act (ARRA) awards for 13 corridors in 31 states including the Detroit - Ann Arbor - Chicago corridor linking Michigan, Indiana and Illinois;
Whereas, The Federal Railroad Administration received applications requesting seven times the available funds for the HSIPR ARRA grants;
Whereas, Developing this pipeline of national high-speed and intercity passenger rail projects will revitalize the domestic manufacturing industry and create additional American jobs building on the one million good-paying, middle-class creating American jobs that can never be off-shored already supported by the rail industry;
Whereas, Ridership on Amtrak grew every year from 2000 through 2008, and are on track in 2010 for its best ridership year ever, further demonstrating the increased demand for intercity passenger rail services;
Whereas, In the City of Ann Arbor, 141,558 people got on and off Amtrak's trains during 2007 resulting in our station being the busiest passenger rail station in the State of Michigan;
Whereas, In highly populated regions, including along the Detroit to Chicago line, Amtrak trains and infrastructure carry intercity passengers and commuters to and from work in congested metropolitan areas, providing a reliable rail option while reducing congestion on roads and in the skies;
Whereas, Passenger rail provides a more fuel-efficient transportation system thereby providing cleaner transportation alternatives and energy security;
Whereas, When combined with all modes of transportation, passenger railroads emit only 0.2 percent of the travel industry's total greenhouse gases and one freight train can move a ton of freight 457 miles on one gallon of fuel;
Whereas, Ann Arbor's planned Fuller Road Station is anticipated to become a source of civic pride, a gateway to our community and a tool for economic growth that supports transportation-oriented development and livable communities; and
Whereas, The City of Ann Arbor continues to work cooperatively with Michigan's  Department of Transportation on the Ann Arbor to Detroit  and Ann Arbor to Howell, Wally, commuter rail programs as well as partnering in the development of the MDOT High-speed and Intercity Rail Program.
RESOLVED,  The City of Ann Arbor embraces the State and Nation's vision for HSIPR and continues to collaborate in full partnership with AMTRAK, MDOT, AATA, MML and other rail-related interests furthering the evolution of the existing limited intercity passenger service into a multi-faceted commuter, intercity and high-speed rail system;
RESOLVED, The City of Ann Arbor endorses and fully supports the State of Michigan's application for funding of High-Speed and Intercity Passenger Rail improvements for funding identified in the FY2010 USDOT Appropriations Act;
RESOLVED, The City of Ann Arbor recognizes and celebrates the pivotal role that a robust intercity passenger rail system can provide for better mobility for persons of all abilities;
RESOLVED,  The City of Ann Arbor requests the Michigan State Legislature provide financial, legislative and policy leadership to guide changes toward expanding access to passenger, high-speed, and commuter rail options; and
RESOLVED, The City of Ann Arbor endorses and agrees to actively participate in MML's role in facilitating a coordinated effort from rail communities providing input and support for state budget discussions on continuing Amtrak funding, support in the state budget development process and legislative initiatives to provide state-level funding for rail infrastructure projects, transit-oriented development, as well as commuter and light rail projects.
__________________________________________________________________________________________
July 27, 2010
News of interest from Minnesota
July 23, 2010
Contact: Donna Lindberg, 651-366-4268
Minnesota's Statewide Freight and Passenger Rail Plan receives national transportation planning excellence award
ST. PAUL, Minn.—The Minnesota Department of Transportation received a national Transportation Planning Excellence Award for the 2009 Minnesota Comprehensive Statewide Freight and Passenger Rail Plan, a strategic vision for enhancing the movement of people and freight and improving access to goods and services.
The award was presented July 11 by the Federal Highway Administration and the Federal Transit Administration (divisions of the U.S. Department of Transportation) and the American Planning Association at the Transportation Research Board meeting in Minneapolis.
"In developing this comprehensive state rail plan, we have created a map for commodity movement by rail as well as a passenger rail network of linked routes that will improve travel times, energy conservation, environmental impacts, and traveler convenience throughout the region," said Tom Sorel, Mn/DOT commissioner.
Mn/DOT was one of 11 winners of the biennial award, which recognizes outstanding initiatives nationwide that develop, plan and implement innovative transportation planning practices. Ninety projects competed for the award.
The panel of judges noted the plan's comprehensive and balanced nature, data-driven approach, vision for the future, and leadership and compliance in responding to emerging federal requirements and guidelines.
Using data and planning analysis from the state rail plan, Mn/DOT and its partners submitted grant applications for rail-related projects to the federal Transportation Investment Generating Economic Recovery (TIGER) program. As a result, the state received funding for the completion of the St. Paul Union Depot. Minnesota also was awarded the only basic high-speed planning grant in the country from first round stimulus funding for development of the Chicago-Twin Cities corridor.
"We're already seeing pay-offs from this comprehensive plan, and look forward to future achievements in the areas of freight and passenger rail for our state and the region," Sorel said. "Mn/DOT shares this award with our partners and the transportation stakeholders who participated in this landmark planning effort."
To view the 2009 Minnesota Comprehensive Statewide Freight and Passenger Rail Plan, visit Mn/DOT's Web site at http://www.dot.state.mn.us/planning/railplan/.
For information about the Transportation Planning Excellence Award, see https://www.fhwa.dot.gov/planning/tpea/2010/.
###
Praveena Pidaparthi, AICP
Planning Director
Passenger Rail Office
Minnesota Department of Transportation
395 John Ireland Boulevard, MS 480
St. Paul, MN 55155
Phone: (651) 366-3199
Fax: (651) 366-4248
Email: [email protected]
__________________________________________________________________________________________
July 26, 2010
Some U.S. airports are waking up to the potential of some of their key assets: buses, cars and trains headed their way and acres of unused land.
They're starting to see themselves as all-purpose transportation centers — so-called intermodal hubs — where national, regional or metro rail, local buses, rental cars, taxis and shuttle operations are consolidated.
Some, such as those in Miami and Providence, are building them. Others are seriously considering it. The goal is to not only give travelers greater access to and from airport terminals, but to make the airport a central station where people go for a variety of choices in ground transportation.
Travelers, for instance, could take a local express bus or light rail to an airport, many of which are far from urban centers, for more than a flight. There, they could rent a car, or get regional or even national rail service to go somewhere else — without having to transfer to another station. And they could do it without having to drive and park their car in a far-flung lot. The same options exist when they land.
"It's a great idea," says Jeff Mayhew, a frequent traveler and a human resources director in Memphis. "It's about time we catch up. Parking is so expensive these days, and if you're stuck using a remote lot, you're likely riding a bus a couple of miles anyway."
When Mayhew lived in Brussels, he says, he used to hop on an airport express train from a station across the street from his apartment. The train dropped him off at a station directly under the terminal. "It would cost about 6 euros ($7.75) round trip, vs. 20 euros ($26) a day if I parked my car there," he says. "No hassle with traffic. One elevator ride, and I was at security."
Airports see practical reasons for turning themselves into public transportation centers. They can reduce pollution and traffic congestion around terminals. They also see dollar signs in building hubs. Some airport officials think they'll attract greater air service and open up another stream of non-aviation revenue from possible commercial development nearby.
"I think (such hubs) are truly the next logical wave of airport service," says Bill Hooper, an airport architect at architecture firm Gensler. "It's also a great opportunity for sustainability."
The airport industry is closely watching Miami International and Providence's T.F. Green airports' high-profile hub projects to see how successful they are. Other cities already have plans on drawing boards or are taking steps. San Diego, Phoenix and Los Angeles are, and Ohio transportation officials are seeking to create an intercity rail station near Cleveland Hopkins Airport. Some public transportation advocates in Tampa have called for building a train station at Tampa International Airport that would be used by high-speed rail and local light-rail trains.
Advocates of mass transit have talked about "intermodal hubs" at airports for decades without much action, despite several pieces of federal legislation that pushed for more public transportation. A majority of U.S. airports haven't had the funding, land, interest or political will to take on such massive projects.
But recent developments are starting to change the situation. Key among them is a push by many airports to extend local rail service to their terminals from the city center. A proposal to build a national high-speed rail network, which picked up steam when President Obama assigned $10.5 billion for it, also envisions airports as crucial connection points.
Several cities are working on linking to their local metro or light-rail systems. Seattle-Tacoma opened a direct-rail connection to downtown last year. Others that have an approved rail project to be completed in the coming years include Dallas Love Field, Salt Lake City, Phoenix, Miami, Dallas/Fort Worth, Oakland, Denver, Washington Dulles and Los Angeles.
Direct-rail service would go a long way to establish credibility for airports that claim they're intermodal and offer passengers a variety of choices of ground transportation but really don't, says Patrick Sherry, professor and director of the University of Denver's National Center for Intermodal Transportation.
"Every airport is intermodal if a car can drive up to it," Sherry says. "Give us something new."
International competition is also starting to motivate U.S. airports into thinking about becoming ground-transportation hubs.
Amsterdam's Schiphol airport, where the country's high-speed rail is stationed directly under a terminal, is often mentioned as an ideal model.
Other cities — Cairo; Seoul; Jeddah, Saudi Arabia; Lisbon, Portugal— are also pursuing retail, commercial and logistical developments for their intermodal hubs, Hooper says.
"U.S. (airports) have been shortsighted, but they're now saying, 'This is my moment,' " he says.
More or less
Some airports are more intermodal than others. Newark Liberty's AirTrain, a monorail system, connects the terminals to a rail link station that serves Amtrak and New Jersey Transit commuter trains.
At Baltimore/Washington's BWI Rail Station, about a mile from the air terminals and reachable via free shuttle buses, travelers can catch Amtrak or local MARC commuter trains. Baltimore/Washington was the first U.S. airport to have a rail station on airport property. Light rail from Baltimore also comes directly to a stop at the terminal.
Travelers at Milwaukee can take a free shuttle to the Milwaukee Airport Railroad Station, an Amtrak station about a mile from the airport that connects to Chicago and downtown Milwaukee.
Many travelers say they look at access to mass transportation when choosing a destination airport.
"Rail connections are fantastic," says Kathie Nunley, an educational psychologist and founder of Brains.org, who travels frequently for business.
"They can't build them fast enough to suit me," she says. "Do I fly into Newark and (New York) JFK more than (New York) LaGuardia just because there is a direct train into the city? You betcha. Am I more apt to fly into San Francisco International now that you can take (local metrorail) BART right into the city? You better believe it."
Details on some new hub projects:
•Miami. State officials have discussed a transportation hub at Miami International since the1980s, and began working on the $1.7 billion project in the late 1990s.
Major roadway improvements have been mostly completed. A consolidated rental car center opened a week ago after three years of construction. A key component of the hub, the facility stores 6,500 cars and consolidates the fleets of shuttles run by rental companies.
The project also includes a train station and a people-mover rail system. The people-mover, which is scheduled to open in 2011, would cut shuttle and bus trips by 30% to about 500,000 a year and "improve mobility in and out of the airport," says Gary Donn of Florida Department of Transportation.
A regional tri-county commuter rail and local metro trains will reach the Miami Central Station, scheduled to open in phases in 2013. It also has commitments from Amtrak, and will receive high-speed rail "if it ever gets down to the Miami area," Donn says.
The station will also house a ground transportation center for Greyhound, county buses and taxis.
•Providence. Dubbed InterLink, the $267 million hub is scheduled to open in September and will consolidate the connection points of planes, trains, buses and rental cars.
The commuter rail operated by the Massachusetts Bay Transportation Authority, which now ends at Providence, about 10 miles north of the airport, will be extended to the airport later this year. It will allow travelers from Providence and Boston to ditch their cars to get to the airport. Amtrak is considering reaching the airport in the future.
The hub will also contain a six-story garage for rental cars, a building for rental car transactions, a bus stop and public parking. Elevated moving walkways will link the rental car building and the airport terminal.
Kevin Dillon, CEO of the Rhode Island Airport Corp., is betting that the hub will attract more air service because travelers want easy access to Boston. Foreign airlines, in particular, are intrigued by the idea since international tourists rely heavily on trains to get to Boston. "Transportation connectivity is going to be the key in the future," he says.
•San Diego. In an early plan still being discussed, officials at San Diego's Lindbergh Field have designed a station for the regional commuter rail and the local trolley to stop at the airport. They currently run past the site without stopping. The project also envisions future Amtrak and high-speed rail service.
To be located across the street from the airport, the hub would connect to the terminal via a walkway, moving sidewalk or a people-mover. A consolidated rental car garage, the first phase of the project, is scheduled to be completed by 2015, says Dan Levy of San Diego Association of Governments. The terminal building would also be relocated to be adjacent to the transportation hub.
___________________________________________________
July 23, 2010
Ray LaHood, the U.S. Department of Transportation secretary, is expected to soon make an announcement in Detroit related to a financial commitment by the Obama administration for the $425 million Woodward Avenue light rail project.
Details and a date for the announcement are still to be confirmed, said Karen Dumas, chief communications officer for Detroit Mayor Dave Bing, in an e-mail this morning.
LaHood's office said this morning that nothing is scheduled.
The city and a private consortium of investors are cooperating on a two-stage plan to build a light rail loop from Hart Plaza to Eight Mile Road.
The private group, called M1 Rail, is funding a 3.4-mile, 12-stop route from Hart Plaza to New Center, and has secured most of the $125 million cost of that portion of the project.
The goal is to have the M1 Rail phase running by 2012 and the city's portion by 2013. Detroit Department of Transportation and M1 were cleared by Congress to use the private expenditures as local matching money for federal funding for the city's portion, most of which will be paid for with federal grants.
A message was left for M1 Rail CEO Matt Cullen.
The city said it planned to apply for funding this year from the Federal Transit Administration's New Starts program, which is aimed at partially funding qualified local fixed transit projects. It's unclear if the application has been made.
Approximately $180 million — the $125 million being raised by M1 Rail and $55 million programmed by DDOT — has been earmarked toward the estimated $220 million needed to match a federal grant, the city has said.
The Michigan Department of Transportation in February was awarded $25 million for Woodward light rail-related work under the American Recovery and Reinvestment Act's discretionary grant program, called Transportation Investment Generating Economic Recovery.
Woodward is a state highway and MDOT is repaving a 1.5-mile stretch of the roadway between Tuxedo and Chandler streets for $4 million. That money is not from federal stimulus funding.
The private plan's backers and chief financiers include Penske Corp. founder Roger Penske, chairman of the project; Peter Karmanos Jr., founder of Detroit-based software maker Compuware Corp.; Mike Ilitch, owner of the Detroit Tigers and Detroit Red Wings and co-founder of Little Caesar Enterprises Inc.; and Quicken Loans/Rock Financial founder Dan Gilbert, the project's co-chairman.
Also contributing funds are the Troy-based Kresge Foundation ($35 million) and the city's Downtown Development Authority ($9 million) and companies and institutions that bought advertising rights to the line's stations at $3 million each. Some level of bank financing will be sought as well.
M1 Rail, which received needed legislative approvals and operating funding mechanisms in January, will operate as a nonprofit and eventually be turned over to the regional transit system. The private project is under the supervision of the nonprofit Downtown Detroit Partnership, a private-public partnership of corporate and civic leaders, led by Penske.
The city initially planed to build the entire rail loop starting downtown, but scaled back its effort to allow M1 Rail to handle that stretch it wants to build.
The two sides reached an accord on cooperating last year.
_______________________________________________________________________________________
| | |
| --- | --- |
| | |
| | University of Texas |
| | In the 1920s Detroit's interurban railway connected Port Huron, Flint, Ann Arbor, Toledo, and many other cities in the region. |
The automobile drove Michigan's economy for most of the last century. That singular emphasis on cars, though, left the Auto State with a transportation system ill equipped for the 21st century.
Crumbling highways and bridges, their stubbornly high maintenance costs, and chronic traffic congestion signal that, when it comes to transportation, Michigan's model no longer works.
Michigan is hardly alone, but some other states with similar problems have taken a different approach to solving the problem. Many have turned to passenger rail to help them tame traffic, congestion, and clean air problems, spur economic and jobs growth, curb oil dependence, and give people more choices for getting around.
Rail is by now means a new solution in Michigan. In the 1920s, the state had over 10,000 miles of track carrying both freight and passengers; today, it has just 3,600 miles, with passengers riding on just 500 miles of it.
But Michigan is starting to show renewed interest in building better railroads.
New improvements to its scant intercity passenger rail system began this spring, funded by federal stimulus dollars. Detroit, the only large American city without an urban rail system, now has several long-postponed commuter rail projects in development. And, after proposing serious cuts in support to Amtrak passenger rail in the state last year, Governor Jennifer Granholm's latest budget proposes full funding for the current passenger rail system.
Federal dollars are helping out, too. Due to new funding requirements, the state must update its master rail plan for the first time in 30 years. However, given the state Legislature's history of indifferenceto public transit, lawmakers may not support the governor's budget unless pro-rail people speak up.
Northern Michigan residents have a unique opportunity this week to send a message to Lansing: a public "Michigan By Rail" forum in Traverse City. It is one of nine that a number of non-profit advocacy groups, including the Michigan Land Use Institute, are staging around the state. Each will look closely at Michigan's rail system and prospects for transforming it into a robust, popular enterprise.
The groups hope that the forums will lead to strong citizen response when, as part of updating its master plan for the feds, the state holds its own hearings on Michigan's rail future.
A Budding Rail Revival?
That hope seems more realistic than it did a decade ago. According to officials at the Michigan Department of Transportation, an agency survey four years ago for the state long-range planrevealed a big jump in interest in public transit, including rail, according to MDOT Director Kirk Steudel.
Mr. Steudel also pointed out that ridership on the state's three Amtrak passenger rail lines grew 50 percent in less than a decade, from 457,000 passengers in 2000 to 724,000 passengers in 2008.
He added that the business class sections of trains running between Michigan and Chicago regularly sell out, perhaps because the rising cost of gas and parking means that "riding the train is just cheaper."
But Mr. Steudel added that the progress also reflects that Amtrak is "becoming more reliable, and [that] rail is getting national attention. President Obama is trying to get the system running. It's a form of advertising, just that they're talking about it and putting money into it."
Tim Fischer, deputy policy director at the Michigan Environmental Council, another sponsor of the Michigan By Rail forums, said the big 2008 jump in gas prices was a wake up call, particularly in this auto-dependent state.
"When gas hit $4, we realized that we're stranded without transportation options," Mr. Fischer said. "It was a very palpable loss of mobility. It was a jolt."
Michigan: Unready for Prime Time
Now, with that jolt still fresh in many peoples minds, the federal government is, for the first time ever, investing heavily in high-speed rail: $8 billion from last year's American Recovery and Reinvestment Act (ARRA), and $2.5 billion from this year's 2010 budget will jumpstart a number of projects.
States are clearly hungry for passenger rail funding. Forty states, including Michigan, submitted over $57 billion in proposals, seven times the amount allocated under ARRA.
But Michigan did not do well; it requested $1 billion but received $40 million to upgrade three train stations. According to Mr. Fischer, that shortfall was due to insufficient political will in Lansing.
"We had the demand but not the political support," he said. "While our applications were sitting in front of the Federal Rail Administration, our governor put forward a budget that was about 25 percent of what we needed to operate our current system. That sent a strong message that we don't support the current system."
Mr. Fischer said the $40 million was still a valuable investment, even though it is a relatively small part of a $250 million grant shared by Illinois, Indiana, and Michigan.
"Most of the $250 million in stimulus money will go to uncorking the bottleneck in Chicago," he explained, referring to the long waits Amtrak trains often experience before pulling into Union Station. "Some of our trains already hit high speed, but that doesn't matter when trains have to pull over to the side and wait for freight to pass."
Mr. Steudel agrees. "The biggest improvement we can make to the Detroit-Chicago line is in Illinois and Indiana," he said. "What good does it do to speed across Michigan then wait in Indiana?"
Four Projects for Detroit
Undaunted by Washington's funding decisions, however, rail advocates in metro Detroit are planning projects that could attract more funding in next year's round of federal transportation grants.
One project, dubbed M-1 Rail, is unique: Private funding by business and philanthropists, to the tune of $125 million, for a 3.4-mile line along Woodward Avenue in downtown Detroit. Investors see it as the first step in bringing light rail to the city—and attracting federal dollars. Construction could start this fall.
The Southeast Michigan Council of Governments (SEMCOG) manages another budding project, the Detroit-Metro Airport-Ann Arbor commuter train. It is quite modest: it's meant to demonstrate how rapid transit might serve southeast Lower Michigan by collecting ridership numbers for future planning.
That project's history reflects the difficulty of bringing passenger railroad to Michigan: Although planning began more than 10 years ago, SEMCOG recently dropped a firm start date and said that, initially, service will be offered only for special events, like University of Michigan football games.
A planned commuter rail connection between Ann Arbor and Howell—the Washtenaw-Livingston Line, or "WALLY"—has also seen delays.
WALLY, which enjoys strong local government, business, and citizen support, would provide relief for travelers of congested US-23; planners say that is cheaper than widening the highway.
But it needs three years of full funding as a demonstration project in order to eventually secure federal funds. A raft of local governments and development agencies have pledged funds and the University of Michigan and local U.S. EPA laboratory say they would purchase passes for their employees because it would cut their parking expenditures.
Consultants say WALLY could start up with 11 to 16 months of securing full funding.
The state is making some plans, too: an "intermodal freight terminal" in Detroit, where freight would move between trucks, trains, and boats. Michigan will invest $650 million, making it the state's biggest rail freight project.
Mr. Steudel emphasized that, without a strong freight train system, passenger rail does not have a chance.
"You have to have a system that effectively and efficiently moves both people and goods," he said.
A Boon for Northern Michigan?
While local and state officials and business leaders push for regional rail projects, Larry Karnes, a freight policy specialist for MDOT, is working on the Michigan state rail plan, required to qualify for more Washington funding.
The plan, according to Mr. Karnes, must inventory the existing rail system, analyze environmental and economic impacts, and identify future projects and long-range investments.
"The rail plan can't just be a wish list," Mr. Karnes said. "It must be realistic and achievable" and include both freight and passenger rail systems.
Some rail advocates in northern Michigan see the new rail activity emerging in southern Michigan, combined with the development of a new state rail plan, as an opportunity for their region, too. They say that the strong support for public transportation revealed by the 2008 Grand Vision citizen workshops makes a north-south rail line an achievable goal.
MEC's Fischer said that might get a good statewide reception.
"Residents are crying out for the state to be connected," Mr. Fischer asserted. "They don't want the divide between south and north and east and west. People in Royal Oak want to vacation in the north. People in the northwest want to explore Detroit. Right now our system is geared toward moving people to Chicago, and we'd like to invest in our local communities."
Kim Pontius, executive vice president of another local forum sponsor, the Traverse Area Association of Realtors, believes that first-class public transit can attract young professionals to the region.
"Nationally speaking, when young people are looking at a house, the first thing they ask is how far to the transit stop," he said. "Why? They don't have to buy a second car."
Doug DeYoung, director of government relations at the Traverse Area Chamber of Commerce, which is also sponsoring the Traverse City forum, is a bit more cautious. He wants to make sure local officials get a close look at a state rail plan before clamoring for investment dollars.
"We need to look at who could use rail, who would use it, and where would be the best location for rail as a multimodal transportation solution in our region before we can say what the economic impacts will be," Mr. DeYoung said.
MDOT's Steudel is equally cautious about a north-south rail connection. While the good news is that there are freight rail lines connecting Ann Arbor to Traverse City, making passenger rail at least a possibility, those tracks are very bumpy, slow, and in need of lots of work.
"I'd love to get on a train and go Up North, if it took four hours," Mr. Steudel said. "But, right now, it takes nine. It's going to take a lot of money in physical infrastructure improvements."
That means people who want to ride the rails to, from, and around northern Michigan must speak out.
"We need the grassroots to stand up," said Mr. Steudel, "to say we want this and we're willing to pay for it."
Hannah Clark is the Michigan Land Use Institute's policy associate for transportation. Reach her at [email protected].
_______________________________________________________________________________________
July 14, 2010
Important information regarding SEMCOG's Transportation Improvement Program for Southeast Michigan
SEMCOG, the Southeast Michigan Council of Governments is currently developing the fiscal year (FY) 2011-2014 Transportation Improvement Program (TIP) for Southeast Michigan.  SEMCOG is the regional planning agency charged with developing long- and short-term transportation plans for Livingston, Macomb, Monroe, Oakland, St. Clair, Washtenaw, and Wayne Counties.  SEMCOG wants to ensure that the FY 2011-2014 TIP is consistent with other planning areas that affect or are affected by the transportation system in our region. We are contacting you to explain the TIP development process, highlight some of our analyses, and solicit your ongoing participation.What is included in a TIP?A TIP is a listing of federally funded and/or regionally significant projects that supports the goals, objectives, and policies of Direction2035, the regional long-range transportation plan. Besides a list of projects, the TIP is analyzed for air quality benefits, is constrained to reasonably available funding resources, reviewed for impacts on the human and natural environment.The proposed TIP contains 635 projects that total $1.4 billion. Projects maintaining our current transportation system are most common, but other projects that will make travelling safer, ease roadway congestion, or improve transit connectivity are also included.Soliciting Input from Agency StakeholdersIf you work in an area that affects or is affected by regional transportation or have policies or initiatives that SEMCOG should consider when developing the TIP, we want to hear from you.  We have scheduled a coordination meeting for 4 pm on Tuesday July 20, 2010 at SEMCOG offices.  If you prefer, you may submit any relevant information to SEMCOG or contact us to set up a meeting.  Submit information or meeting requests to:Jeffrey Tumidanski, Planner

Transportation Programming and Finance

535 Griswold, #300

Detroit, MI 48226

(313) 324-3320

[email protected]Please let us know if there is a more appropriate contact person at your agency or if you know of other agencies we should contact. Also, feel free to forward this e-mail to individuals that you believe may be interested.Thank you for your assistance. I look forward to working with you in the future.
Carmine Palombo, PE
Director, Transportation Programs
____________________________________________________________
July 13, 2010
Here's a press release from MDOT about the groundbreaking for the new Pontiac Transportation Center:
FOR IMMEDIATE RELEASE                                      TUESDAY, JULY 13, 2010
CONTACT: Janet Foran, MDOT Office of Communications, 517-335-7176
MDOT, Amtrak and Greyhound to host groundbreaking for new Pontiac Transportation Center
WHAT:   The Michigan Department of Transportation (MDOT), Amtrak, Greyhound and the city of Pontiac will host a groundbreaking for the new Pontiac Transportation Center, which will serve both passenger rail and intercity bus passengers. The intermodal station is expected to be finished by summer 2011. Located at 51000 Woodward Ave., the facility will serve as a hub for mass transit, including Amtrak's Wolverine service to Chicago.
WHO:
State Transportation Director Kirk T. Steudle
Thomas Carper, Amtrak Board Chairman
Pontiac Mayor Leon Jukowski
Heather Carmona, Executive Director, Woodward Avenue Action Association
State, county and local officials
Business and community representatives
Interested public
WHEN:
Thursday, July 16, 2010
10 a.m.
WHERE:
51000 Woodward Ave., southbound
Pontiac
BACKGROUND:     Pontiac's central location is an important asset to the community. It is at a transportation crossroads, serving passenger rail, intercity bus and local transit customers, with easy access to I-75 and M-59, and Oakland County International Airport. SMART, which serves local transit passengers in Oakland, Wayne and Macomb counties, stops within sight of the facility on Woodward Avenue.
The previous transportation center was demolished in 2008. The new energy-efficient, fully accessible facility will be built with 100 percent state funds.
During construction, tickets must be purchased online from Amtrak or Greyhound, or from a kiosk or agent in another facility. When the new facility opens, a Greyhound ticketing agent will assist bus passengers.
Greyhound has eight daily schedules that go through Pontiac. The top five destinations of travelers from Pontiac are Chicago, Indianapolis, Saginaw, Lansing and New York. Greyhound has 160 locations throughout the state of Michigan.
As the nation's intercity passenger rail operator, Amtrak connects America in safer, greener and healthier ways. Amtrak also is the partner of choice for state-supported corridor services in 15 states, including Michigan. Amtrak has three routes in Michigan, including the Blue Water to East Lansing and Port Huron, the Pere Marquette to St. Joseph and Grand Rapids and the Wolverine to Detroit and Pontiac. Ridership on Amtrak services in Michigan is up over last year, with more than 300,000 passengers on the Wolverine so far this year.
###
MDOT: Working with our partners at airports, bus systems, marine and rail to find innovative solutions for Michigan's transportation systems.
Colleen LoVette
Michigan Department of Transportation
Office of Communications
517-335-3084
____________________________________________________________________________________
July 13, 2010
Here's another update from SEMCOG on the Ann Arbor- Detroit Regional Rail Project:
Railcar Refurbishment
Interior design team is proposing ideas for how the rail car will look inside to passengers. This photo shows one potential look. Each double deck car will accommodate up to 125 passengers.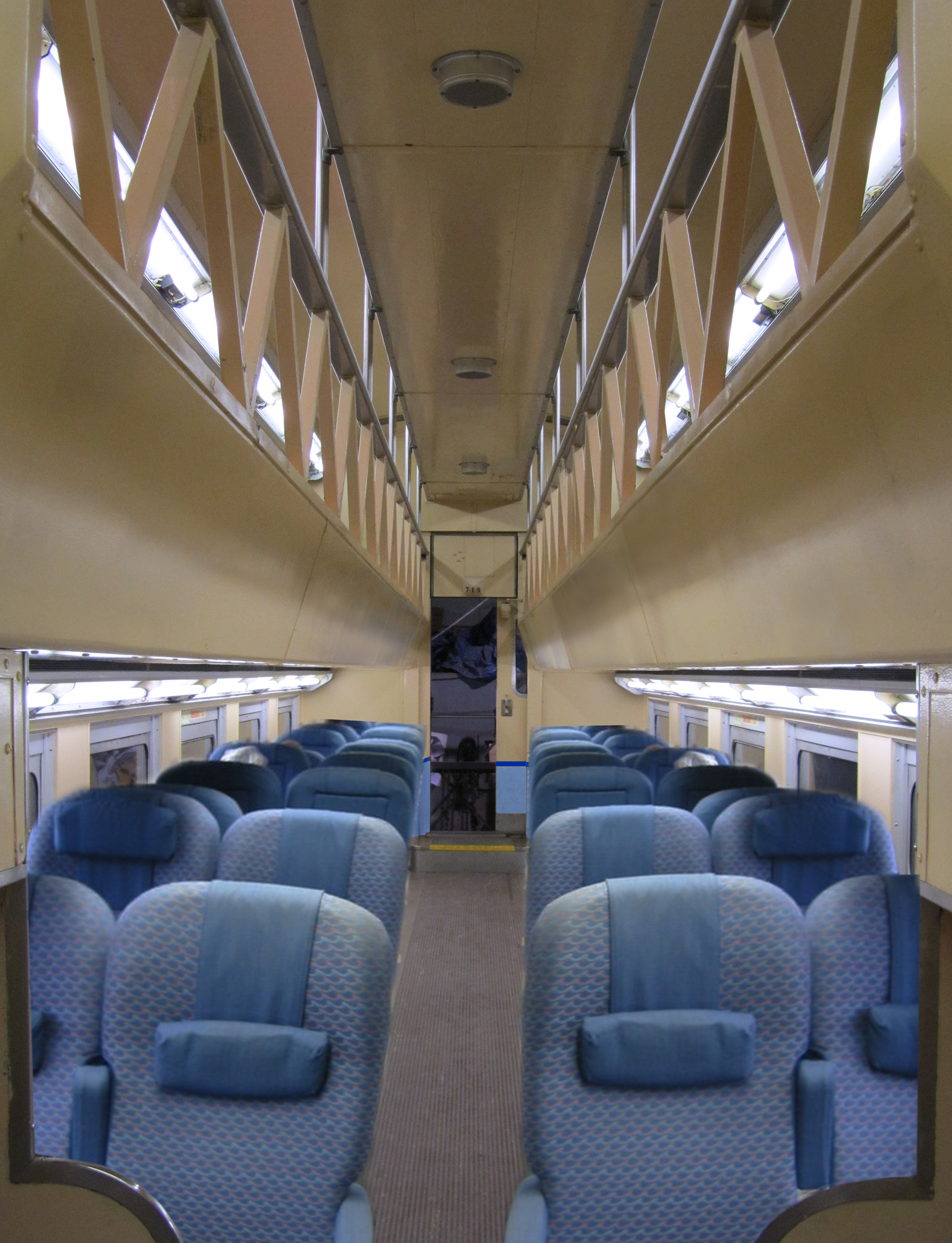 Funding
Developed a financial plan document for the entire project that will enhance support within the Congressional delegation for future federal funding applications.
Currently gathering information and preparing applications for ARRA (American Recovery and Reinvestment Act) round two funding, and TIGER II (Transportation Investment Generating Economic Recovery) funding. ARRA round two funding will require a minimum 20 percent match.
Met with all host railroads along the proposed route to determine their willingness to contribute matching funds for track improvements on their rail segments that would benefit both commuter rail and freight operations.
Environmental Clearance
Developed an action plan and purpose and need document to initiate the Federal Highway Administration's (FHWA) review of the Michigan Department of Transportation's (MDOT) environmental clearance documents.
Stations
Station designs for the airport and Ypsilanti locations are approximately 30 percent complete. Land survey and geo-technical work will begin this month to enhance the utility of these existing plans for a future design-build contract.
Environmental clearance must be signed off by FHWA to access the funds needed to construct the stations.
Service
Details of the event trains are being discussed. The first confirmed event trains will be run on Thanksgiving Day to take passengers to and from the parade in Downtown Detroit.
Woodside Capacity Analysis
Woodside Consulting Group is using a rail capacity model to finalize capital improvement needs and develop the best service schedules for the commuter trains that will accommodate peak travel times in the corridor and coexist with freight operations. Once train schedules are finalized, feeder bus schedules will be developed to meet all commuter trains and deliver passengers to their final destinations.
Locomotive RFPs
The locomotive vendor has been selected and will be notified this month to begin work on the locomotives to customize them for Ann Arbor-Detroit commuter service.
Maintenance and Operator RFPs
These RFPs are on hold until additional funding is secured that will allow for track improvements to support daily commuter service.
_______________________________________________________________________________________
July 12, 2010
Check out this short video just released by the Midwest High Speed Rail Association
_______________________________________________________________________________________
July 1, 2010
SEMCOG posted this update on the Ann Arbor- Detroit Regional Rail Project. The slideshow below shows the progress being made on the new MiTrain. The artist's renderings of the locomotive and passenger cars give a good idea of what the trains will look like, while the other photos provide a look at the seats to be refurbished, the manufacturing of the trucks, and the platform lifts which will make the cars ADA compliant.
This slideshow requires JavaScript.
_______________________________________________________________________________________
July 2, 2010